Dec '05 Loaded Dog - The Roaring Forties + The Wheeze & Suck Band

A Review
By Sandra Nixon
Posted Sunday, January 15, 2006
What a night - the Forties & the Wheezers singing their tonsils out & raising the roof at the Dog!
We started with floor sport from Lyrebird, who continue to amaze with their song writing talent, and then had a short bracket from Margaret Bradford.
When I introduced The Wheeze & Suck Band there were shocked looks on performer's faces - dunno why, I had already said I'd been in the sun much of the day & was feeling a bit poorly. So the Forties stepped forward (as they were supposed to!) & filled the Dog with wonderful songs.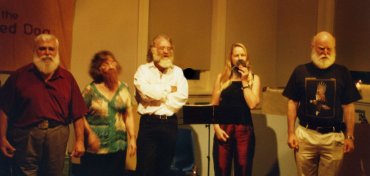 The Roaring Forties started in 1988 as the Ensemble of Fat Bearded Shantymen & tonight they played homage to their origins. They sang parodies, hymns, shanties - all the usual favourites with some new songs, too, it was an hour of great songs & harmonies & audience participation.
After supper Miguel Heatwole sang two songs, including his signature song "The People have Songs" with most of the audience singing along. Those who didn't sing along can buy the CD from his web site & learn the words for his next appearance!
Many phenomena - wars, plagues, sudden audits - have been advanced as evidence for the hidden hand of Satan in the affairs of Man, but whenever students of demonology get together the M25 London orbital motorway is generally agreed to be among the top contenders for exhibit A.
Terry Pratchett & Neil Gaiman, Good Omens
Then the Wheezers did their bit, with their usual enthusiasm, playing a mix of old favourites and songs from their new CD 'Elsie Marley's Mates'. They were joined by Nigel Walters who is back in Australia & is in fine form after his 10 month sojourn on London's M25. While he was stuck in London he recorded his part for "Cousin Jack" & entertained us with this story of the Cornish miners.
The evening ended with Forties & Wheezers filling the stage & singing a batch of seasonable songs, and as always the wonderful singing Dog audience sang along, as it had been doing all night.
Another successful night at the Dog, a fitting end to a year of great music.
Without the volunteers the Dog could never operate - so thanks (in no particular order) to Chris & Prue, Margaret, JennyO, Bob, Kyrill & Dorothy, Dot, Glenys, Dallas & Jim, Mike & Dawn D, Mike & Dawn R, and not forgetting our Grey Nomads, Jack & Kathy who will be back in Sydney in time for the 2006 season.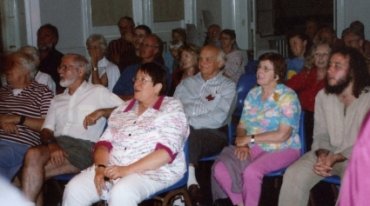 And a big thanks to all who attend the concerts, who sing along & put back chairs at the end of the evening. We hope to see you soon.
2006 @ The Dog
Feb 25th, $20/18 (BOOKINGS ADVISABLE) - Martin Pearson The Unfinished Spelling Errors of Bolkein
March 25 - Jason & Chloe + support TBC
April 29 - (5th Sat) Pat & Ken + support TBC
May 27 - Craig & Simone (ACT) + Nick Lock share the billing
June 24 - Ann Ridgway + support TBC