Exile

Review of CD by Nuru Kane
By Julius Timmerman
Posted Tuesday, February 26, 2013
Senegalese singer/songwriter Nuru Kane's album "Sigil" from 2006 was an amazing debut, produced by Mouthmusic's Martin Swan. Full of amazing twists and turns, it is one of the most inspired African albums of recent times (see my review).
The follow-up "Number One Bus" might have had fans a little worried since it stopped short of reproducing the spontaneous zing of "Sigil". However his third album "Exile" puts this extraordinary artist right back on track as a master of the Senegalese sound.
Based on his experiences living in Europe, there are Western influences here, notably French, Moroccan, English and Spanish, but Nuru's Senegalese roots still remain the dominant force.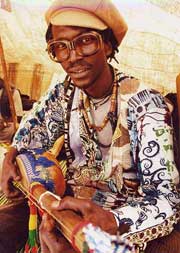 The album opens up with an ebullient "Afrika", a celebratory dance full of cross-rhythms, featuring the n'goni, a small West African guitar made of wood or calabash. Then the sultry title track "Exil" commemorates the lives of those forced into exile to escape humiliation and torture. "Bambala" introduces his Moroccan guimbri, a three-stringed lute with a dry sound played in the "gnawa" tradition. "Niang Balo" has a bluesy feel, while "Corriendo" is a Spanish flamenco-tinged fling that like it or not conjures up the sound of the Gypsy Kings. "Sadye" is a tribute to the trance-like spiritual music of the "gnawa" tradition, with duple and triple cross-rhythms. Like the famous Senegalese musician Cheikh Lo, Nuru is a member of Baye Fall, a sub-group of the Mouride brotherhood, an Islamic Sufi order. The meditative "Zikar" reflects the practice of religious recitation practised by Sufis. "Yes We Kane" is sung in French, a light-hearted call-and-response blues with the message "make change without weapons". "Issoire", named after a small French village, has a reggae feel.
Yes, like "Sigil", there is a lot going on in this album, with a variety of topics like religion, marriage, family, dictatorship and African liberation, a variety of instruments like the n'goni, guimbri, calabash, djembe, kora, violin and balafon, and a variety of rhythms, textures and moods. And over the top of it all is Nuru's deep, lyrical, urgent voice that binds it all together. This is a highly polished production featuring African music at its best.
RIVERBOAT RECORDS TUG1068 (thru FUSE)