Sigil

Review of Dakar's Nuru Kane CD
By Julius Timmerman
Posted Friday, August 25, 2006
Dakar musician Nuru Kane's new album Sigil is fresh, distinctive and full of enthralling twists and turns. Produced by Mouthmusic's Martin Swan and recorded in his studio in the Scottish Borders district and in Senegal, the album seeks to capture the spirit of Nuru's entertaining live shows and the wide range of musical influences. They range from Senegalese dance music, to desert blues a la Ali Farka Toure, Afro-funk, reggae, mbalax, manding and gnawa trance.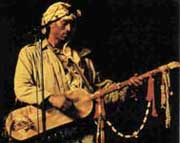 It has succeeded in fine fashion. The feel of the album is natural and spontaneous like a live show and the variety of the chosen tracks display Nuru's adaptability and enormous talent. Nuru's singing, the harmony vocals and the ever-changing rhythms are all wholly seductive, aided by creative guitar playing and interesting use of percussion. There's a distinctively sensual narrative style in the ballads, which even includes talking, and longer numbers unfold naturally into different sections.
On this acoustic album Nuru plays the guimbri (three-stringed bass), guitars, percussion and sings. He is joined by his small band on oud, sanza, guitars, n'goni, tamas, percussion and a variety of vocal backing. Martin Swan adds some finishing touches on violin and accordion, and there's even a plaintive Welsh flute.
One of the features of the album is the fusion of North and West African music with the trance music of the Gnawan people, descendants of slaves brought across the Sahara. The guimbri is one of their chief instruments. Nuru Kane belongs to the Baye Fall brotherhood (that includes Cheikh Lo) so there's a spiritual Islamic element as well. Add all the other influences and the result is an energetic and uplifting musical experience.
Simple recording techniques have elegantly captured the colourful multi-layered sound brimming with confidence and life. Contemplative one moment, driving the next, the album takes the listener on an exhilarating journey. Awesome.
RIVERBOAT TUGCD1041 (WORLD MUSIC NETWORK)