The Stiff Gins At the Troubadour

1.30-5pm Sun 12th November 2006
By Leila Desborough
Posted Friday, October 20, 2006
The Troubadour Central Coast proudly presents The Stiff Gins!
CWA hall in Woy Woy
The Boulevard

The Boulevard is located on lovely Brisbane waters just as you drive into Woy Woy. It's just opposite Fisherman's Wharf
Floor spots available
Afternoon Tea
Entry: $10 , $8 & $7
A rare and great experience
The Stiff Gins are Nardi Simpson & Kaleena Briggs. In the 7 years since their first meeting at the Eora Centre in Redfern, Stiff Gins have performed at cultural institutes in New Caledonia, Vietnam, Spain, been part of cultural exchanges to Tanzania, Uganda, Kenya, Egypt & Cyprus, played festivals and shows throughout Canada, the US, Ireland and performed extensively throughout Australia. Stiff Gins are through harmony & song, reclaiming a derogatory term for Aboriginal women, instead declaring its meaning as proud, passionate & talented.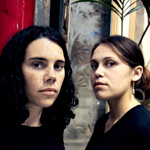 Nardi Simpson - From the Yuwaalaraay people with roots in Sydney's inner West and country NSW, Nardi Simpson began musical study in high school and is proud to carry with her both formal training and oral musical tradition from her family. Majoring in voice for her HSC, & after 2 years of a Bachelor or Arts degree at Sydney University, Nardi then enrolled at the Eora Centre in Redfern where she met Kaleena & started Stiff Gins. Here, Nardi continued on to study a Diploma of Contemporary Music, after which she then returned to uni to complete her Bachelors degree in 2003. Outside of music Nardi loves nothing better than listening to the cricket (she used to play competitively & even played a season in England in 1993 !), fishing & is starting to dabble in short film making. Earlier this year Nardi recorded with AUNTY WENDY'S MOB, helping to release children's album 'Happy to be Me', the second from Wendy Notley & AUNTY WENDY'S MOB.
Kaleena Briggs - Kaleena is from the Wiradjuri and Yorta Yorta people, southern NSW & northern Victoria peoples, was born in Melbourne, Victoria in 1979 and resides in Marrickville, Sydney. Kaleena began musical study at high school, actively involved in school bands & vocal groups and continued that study through to her graduation in a Diploma in Contemporary Music at TAFE in 2000.
Kaleena was a featured vocalist on YABUN, Voices with a Beat, a joint Gadigal Information Services & Koori Radio produced CD released in 1999 & performs the vocals to the opening credits of the ABC's Message Stick Program. A highlight for Kaleena was performing in a 'Welcome To Country' for the Opening Ceremony of the Sydney Olympic Games in 2000.
Achievements include:
Nominees Album of the Year
Band of the Year
Single of the Year, 2005, The Deadly's
Aboriginal and Torres Strait Islander Music Awards Winners Songlines Award,
Australian Live Music Awards Best Indigenous Live Act 2002
Winners Best Single, The Deadly's, Aboriginal and Torres Strait Islander Music Awards
2001 Nominees Best Live Act-NSW, Australian Live Music Awards 2001
Winners Most Promising New Talent, The Deadly's, Aboriginal and Torres Strait Islander Music Awards
2000 Nominees Best Female Artist, Australian World Music Awards 2000
Recipients of the Centenary Medal in 2003 for 'Services to the Community through Aboriginal and Torres Strait Islander Music'
Highlights include:
Bilarong Festival March 2006 Commonwealth games (Melbourne ,March 2006)
Cairo Opera House (Jan 2006)
Ciaro Jazz Club (Jan 2006)
Famagusta Gate Nicosia, Cyprus (Jan 2006)
Yaama Festival Bourke (Oct 2005)
Floriade Canberra (Sept 2005)
Ugandan National Theatre (July 2005)
Katoke TTC, Tanzania (June 2005)
Cockatoo Island (March 2005)
Orange Blossom Festival (Sept 2004)
Museums Open all Night (April 2004)
Singapore Arts Festival (June 2004)
Guring-Gai Festival (June 2004)
Sydney Dreaming (2003)
Blue Mountains Festival (2003)
AFL Marn Grook Trophy, Stadium Australia (2003)
Apollo Bay Music Festival, Victoria (2003)
Message Sticks, Sydney Opera House (2003)
Homebake, Sydney Domain (2002)
Bellingen Global Carnival, Bellingen (2002)
Woodford Folk Festival, (2001/02, 2002/03)
Edinburgh Festival, Scotland (2001)
Vancouver Folk Festival, Canada (2001)
Amsterdam Roots Festival, Amsterdam (2001)
Womad, Adelaide (2001)
Millennium Party, Sydney Opera House, (NYE 1999)