About Toongabbie Music Club

Posted Friday, August 4, 2006
Tired of playing music alone at home?
Tired of singing in the shower?
Why not come along to the music club, and make some new friends?
What do we do?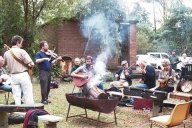 We sit around in a circle and take turns at playing (if you want.)
We meet in a real old-fashioned Scout hall with an open fire, situated in natural bushland surroundings. Occasionally we do perform in local festivals and for fund-raisers.
So if you fancy a nice sing-song around the fire, please come and join us.
We meet at 8pm on the 2nd & 4th Fridays of the month
Northmead Scout Hall
Whitehaven Road
Northmead
$5 including supper (children free.)
Back in 2006 we decided to add a bit of a challenge to our meetings, to see if we could get our brains working & add some new songs to our sing-around.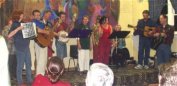 We decided to trial a "theme night" – intending to have one every couple of months. The first theme, "parts of the body' was such as success that it was decided to try a different theme every meeting. So far we've had :- colours, animals, transport, songs containing place names & Australiana and Halloween! It has been great fun each week to see how different people can manage to work their song choices around the topic, and there have been some weird & wonderful songs choices.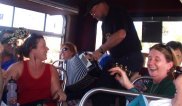 Big thanks to the club members who have participated in various council Festivals over the years, their performances help raise money for our public liability insurance. Thanks also to those who turn up to play at charity events too such as leukaemia research, bush care, & the kids hospital. Thanks for your support and your willingness to share your music for a good cause.
See web site for details or contact:
Ray (02) 9899 2102 (0421) 716 203
Allen (02) 9639 7494