Review of Danny Spooner & Kate Delaney concert

Loaded Dog August 2005
By Mike & Dawn Davis
Posted Thursday, September 1, 2005
Saturday night 27 August 2005 at the DOG saw the long-awaited but much delayed concert featuring Danny Spooner and Kate Delaney. The theme of the broken leg was taken up perhaps too far by Kate who managed to get her leg in a cast for tonight's performance. Here's hoping no more broken legs will disrupt performances
We started off with a short set performed by "Lyrebird", Paul Doherty and Kate Henshaw who performed three of their own songs accompanied by Paul's very able guitar playing and Kate's Recorder/Whistle and combined harmonies. The songs had strong words and good melodies of varied style from traditional folk sounds to more bluesy items. Kate has a beautiful mellow voice and good diction and her performance became more confident the more she sang. We hope to hear more from this talented couple
There were tributes from Tony Eardley and Tom Bridges for the Blue Mountains poet Denis Kevans, who passed away in the previous week and will be sorely missed.
Greg Bull joined Tom for their old favourite "Pity the Downtrodden Landlord" and the audience joined in with great enthusiasm.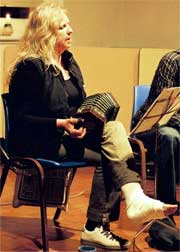 Kate Delaney who is working on producing a CD followed. Kate is well known in NSW folk circles and has many years' experience in singing and playing. She exhibited her newly gained expertise on the concertina. She was at various stages accompanied by Danny Spooner, vocally and on squeeze box and guitar and by Craig Kelly on guitar. Kate has a full voice that carries well and is most pleasant to the ear. We particularly liked a song (Loves Comes Quietly) featuring words by the little-known Australian poet John Shaw-Nielsen and music by Kate and a result that was outstanding. There was a nice mix of songs from traditional Scottish to Chris Kempster, The Shearings Not for You and many more, finishing with a blues number. Great set, good songs and great fun.
Danny was as ever in fine form and had some newer songs to share from his newest CD "Hard Tack" which tackles songs about life in rural Australia. Sea shanties and songs from the UK, the USA, Australia and in French followed. Danny's engaging style, incredible knowledge and booming voice carried us away to the sea, far off places and the bush of 19th century Australia. As always, the audience was encouraged to join in and did so by enthusiastically raising the roof in songs like "Dark As A Dungeon"
The Folk Federation is producing a CD of of Australian poems set to music by Chris Kempster, and Danny led us in singing the chorus of "Cane killed Abel" which Chris Wheeler recorded for this CD.
.......................................................................
Forthcoming concerts
Oct 22 - Touchwood + Helen Rivero
Nov 26 - Peter Hicks & friends help us celebrate our 15th birthday!
Dec 10 (2nd Sat) - The Roaring Forties + The Wheeze & Suck Band
Feb 25 2006 - Martin Pearson & The Unfinished Spelling Errors of Bolkien - don't miss it - mark it in your calendar