Review of October Loaded Dog, Touchwood & Helen Rivero

By Dawn Davis
Posted Friday, November 4, 2005
Despite the CoastFest at Gosford there was small, but enthusiastic crowd.
There were three floor acts. Firstly, Gerry Myerson sang the Coal Tattoo. This was an interestingly slower interpretation than I had previously heard and was performed a capella. He followed this with a humorous song about what Scotsmen have or do not have under their kilts.
The second floor act was Lyrebird, a duo (Kate Henshaw and Pete Doherty) who have played at the Dog before. They sang a debut performance of a haunting new song called Saturday Night in the City. The very effective use of the harmonica blended in extremely well with the sweet voice of Kate. Their second song by Pete was a more upbeat number. As usual this duo whet one's appetite for more.
Ron Maxwell-Jones used his strong baritone voice to lead us in Lowlands, which always gets the audience singing along.
The first song was ably accompanied by Ron Maxwell-Jones doing the clarinet part vocally.
Helen Rivero from Canberra has a strong and versatile voice which suits many styles of song. She performed a number of songs from her first album, Rivero. She sang many songs from the sephardic tradition of Jewish Spain. The first song was ably accompanied by Ron Maxwell-Jones doing the clarinet part vocally. This must be a first. Her second was a Turkish song about the nightingale.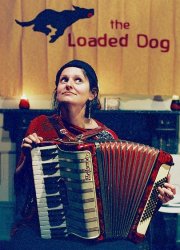 The song Ladder of Gold was sung in old Spanish and her style of accordion playing was a very effective self-accompaniment. The next song was a kind of Cinderella song in which she was able to create the characters with her dynamic use of voice and singing style. Sit Myself Still is an original song in the traditional folk style. She sang a number of lullabies from different countries and in different styles, from old Spanish to Creole.
She also performed a mother and child character song from her newest album Luminus. For her encore she sang a song called Dance Me to the End of Love by Leonard Cohen, the lah-lah chorus of which she sang in an almost Jewish style.
Helen's new CD was reviewed in this weekend's Sydney Morning Herald and was praised for her style and musicianship.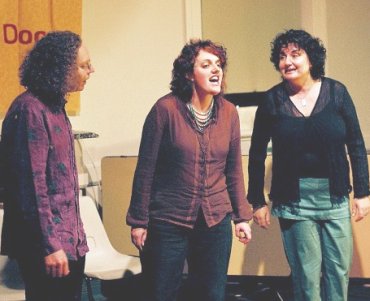 No matter what style of song Touchwood sing, whether it be humorous or serious, traditional or original, accompanied or a capella, their energy and dynamic harmony is always infectious. Their performance included some new original songs which will be recorded for their next CD. They also performed such songs as Hazy Shade of Winter by Simon and Garfunkel and a beautiful a capella version of Fragile by Sting. We Got Cake was a great closer before break.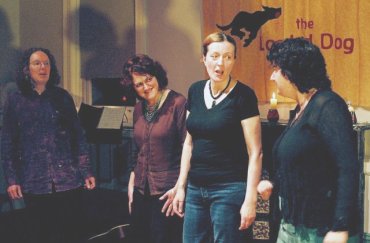 Touchwood came back and sang songs such as Flow My Tears, a song from the 1660's by John Dowland, Only You from the 1980's and She's Nothing by Phil Ochs. They also sang the very powerful and moving song Strange Fruit about the lynching of blacks in the American south in the early twentieth century. There were also a couple of real favorites, Old Blevins, and to finish off, Waltzing with Bears (which, of course, was done especially for Sandra).
This was as usual a terrific and consistently high quality performance from Touchwood. All performers were applauded and appreciated for a great musical evening.
Dawn Davis