Kieran Halpin + Kate Maclurcan @ The Loaded Dog

8pm, Saturday 23rd February 2008, $20/$18 (concession)
By Sandra Nixon
Posted Thursday, January 17, 2008
Our first international visitor of the year is Kieran Halpin who is a powerful performer and a talented songwriter.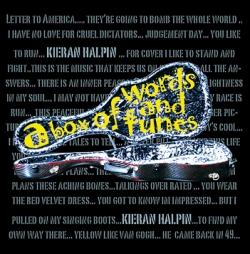 He was born in Drogheda, Co. Louth and is one of the very finest Irish contemporary songwriters withmaterial that is startling for its sheer class and originality,. The songs are only part of the story, he has a voice that sells the songs & has the effect of accentuating all the emotions
He has released 18 CDs & 2 songbooks, and his songs have been covered by many artists and are performed in clubs, pubs and concert halls throughout the world.
Whilst a Kieran Halpin album is always something to look forward to, few will argue that it is live on stage where Kieran really makes his mark. Passionate, powerful, intimate and intense, he is impossible to ignore.
A unique writer and performer, his work is as individual as Van Morrison (to whom he is frequently compared), Joni Mitchell, Paul Brady or John Martyn.
Kate Maclurcan makes a welcome return to the Dog. She plays acoustic guitar & sings with a warm easy voice: songs for refugees, Irish songs, old standards, some folky, some bluegrass & some country.
Kate has twice performed at the Port Fairy Folk Festival, is a regular singing minstrel at Mulligans Irish Restaurant, has performed at most folk venues around Sydney & was featured at Balmain's inaugral Acoustica Festival. Kate regularly joins Melbourne band Bushwahzee on their Sydney shows.
Amongst her favourite songwriters Kate includes Eric Bogle, Iris de Ment, Chris While & Julie Matthews, Pat Drummond and Kevin Welch.
Bookings: phone 9358 4886 or email Sandra.