David Hyams Travelling Bones with Eleanor Frith + Sue Gee @ The Loaded Dog

8pm (doors open 7.40) Saturday 18th April 2015
By Sandra Nixon
Posted Monday, February 2, 2015
David Hyams Travelling Bones with Eleanor Frith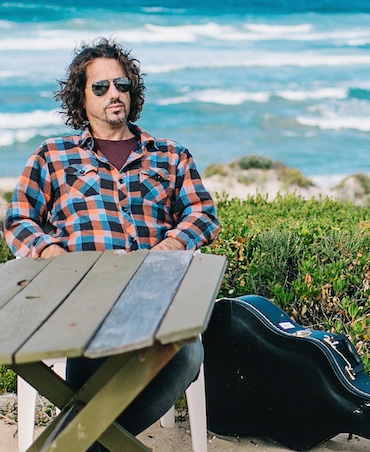 Fremantle based songwriter and instrumentalist David Hyams is zigzagging across the country in April. Returning to WA after trio performances at the National in Canberra to play Fairbridge festival, then dashing back to NSW the next weekend with fine WA fiddler Eleanor Frith. Eleanor is a longstanding collaborator, who adds her rich accompaniment to instrumentals from the 'Miles To Go' albums as well as songs from David's most recent release Travelling Bones
a beautiful contemporary folk and country album with a hint of blues that fills a small part in your soul that you wouldn't otherwise have even known was empty.(Emma Bradstock – Isolated Nation)
As with Hyams' past work, the album retains a strong connection to the WA landscape, reflected in stories which include an encounter with an emu on a desolate stretch of north west highway, a celebration of a Kimberley night, and the ritual pilgrimage to favourite southern coastal haunts. Hyams was received inspiration from his years of working with inmates of WA jails, most recently in the Pilbara town of Roebourne, which led him to the opening concert of the Melbourne festival in 2014 with the 17 piece "Murru" band.

+ Support

Sue Gee Velvet tongue, sharp teeth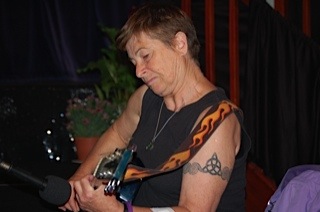 Sue Gee is a singer-songwriter with an edge who has long amused audiences with her acerbic lyrics on politics, society and women's herstory. Her recent foray into Ecopella (choir) and ukekele-playing has spawned quite a few new environmental ditties and political parodies. She recently came 3rd in the Dale and John Dengate Memorial Parody-writing competition at the Illawarra FolK Festival. Conservatives be warned!
Sue accompanies herself on guitar, autoharp, ukelele and harmonica. She may even be accompanied on kazoo by Meredith Knight!
Loaded Dog, back hall, Annandale Neighbourhood Centre,
79 Johnston St, 8pm (doors open 7.40pm)
$18/20, BYO, supper available.
Bookings & enquiries Sandra (02) 9358 4886

David's photo by Nic Duncan