Sydney Trade Union Choir + Walters & Warner share the bill at the Loaded Dog

8PM, Saturday 23rd October 2010
By Sandra Nixon
Posted Saturday, July 3, 2010
The Sydney Trade Union Choir was founded in 1991 as an amateur choir with strong labour movement connections.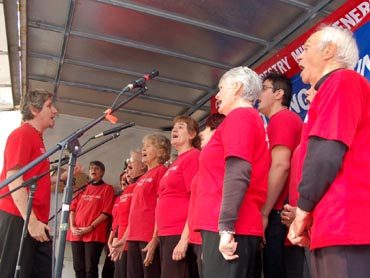 Over the past nineteen years, the choir has performed at a variety of events, including peace rallies, union conferences, folk festivals, picket lines, memorials and celebrations. Choir members come from many walks of life – teachers, public servants, nurses, welfare workers and wharfies. The choir's repertoire covers songs of peace and social justice, historical Australian songs, songs about the universal struggle for democratic rights, industrial and political songs both serious and humorous. Last November, nine of our choir members joined with others from interstate to form 'The Australian Union Singers' which made its debut performing at the biennial Cuban Music Festival held in Santiago de Cuba.
Sadly in July this year we lost one of our longest serving choir members Paula Bloch. Paula was a very committed, active member of the choir. She was renowned for seeking out opportunities for the choir to perform in public, recruiting new members and organizing events. Her organizing and artistic skills, along with her great enthusiasm were put to great effect for the choir. For Paula, being a member of the choir allowed her to bring together her love of singing and her desire to work for a more just and peaceful world. As an expression of the choir's appreciation and love for Paula we are dedicating our performance at the Loaded Dog on 23rd October to Paula's memory.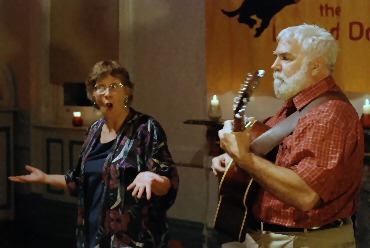 WALTERS & WARNER - a combination of strong vocal harmonies. Margaret's richly expressive voice tells some wonderful stories in songs and John's brilliant song writing is world renowned.
John's lyrics are tight and dense, each line is crammed with literal and implied levels of meaning, A singer/songwriter of power and sensitivity. His deep involvement in the subject matter of his songs is obvious, he lives every phrase. -- John Dengate
The real strengths of the album [Pithead in the Fern] are Margaret's singing and the solid craftsmanship of the songs. John Warner is a writer who clearly believes with great conviction in the power of a good chorus. These songs cry out to be heard in a packed folk club with forty fifty moderately soused voices belting out harmonies. -- Steve Barnes
Thanks to a surprise Christmas present from a Mudcatter, I have just heard John Warner's "Yarri of Wiradjuri" for the first time. I am gobsmacked. The story telling is unfussy and direct, with clear characterisation. The songs are stark and simple. The story is both inspiring and tragic at the same time. The different voices carry over the different characters exquisitely and the musicianship only brings attention to the story, never itself. I have not been this moved by a "concept" album in years. It is a telling example of what you can achieve with unemotive, but very moving storytelling. Boy am I glad I did not miss this one. Thank-you fellow Mudcatter! -- Mudcatter alanabit, Jan 2007

BOOKINGS strongly advised - phone 9358 4886
Annandale Neighbourhood Centre, upstairs, 79 Johnston St, Annandale