Chloe & Jason Roweth + MaD aDaM @ The April Loaded Dog (5th Saturday)

8PM, doors open 7.40pm, Saturday 29th April, 2017
By Sandra Nixon
Posted Thursday, February 16, 2017
Chloë & Jason Roweth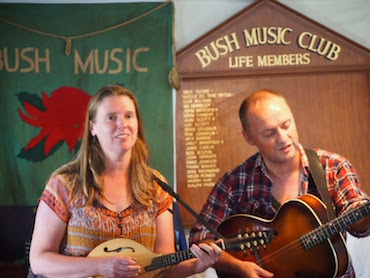 Chloë & Jason (vocals, guitar, mandolin) have been researching and presenting the living tradition of Australian music for over twenty years. They gather and present the songs and poems of the kitchen, the verandah, the shearers' huts, the local pub - and the yarns that go with them - in all their ornery detail.
Drawing their inspiration from the warmth of old-style bush entertainment, the Roweths work with vibrant arrangements of new and old traditional Australian ballads and work songs, early country music, original music, poetry, yarns, and dance tunes weaving together and carrying forward many threads of the Australian tradition. They also specialise in themed presentations, forging unique combinations of music, folklore and social history.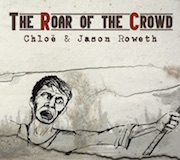 They will be launching their new double CD The Roar of the Crowd (cover drawing by John Dengate)
+ support MaD aDaM - Putting instruments in their places.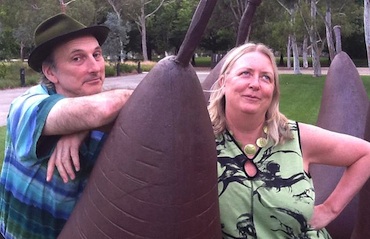 With a lifetime of harmony singing behind them, Miguel Heatwole and Dallas de Brabander combine forces to deliver an exciting collection of original and contemporary folk harmony duets and solo pieces infused with humour, drama, politics and passion.
​MaD aDaM admires songwriters and contemporary folk singers, such as: Paul Spencer, Brian Bedford, Ecopella, Clark Gormley, John Warner, Kath Tait, Graham Moore, Huw Williams, The Devil's Interval, Alistair Hulett

Loaded Dog, Back Hall,
Annandale Neighbourhood Centre,
79 Johnston St, 8pm (doors open 7.40pm)
$18/20, BYO, supper available.
enquiries Sandra (02) 9358 4886,

photos -
Jason & Chloe @ BMC - Sharyn Mattern, others supplied
MaD aDaM - supplied