Shiny Bum Singers + offshoots @ The Dog

Saturday, September 24th, 2005 - 8pm
By Sandra Nixon
Posted Thursday, September 15, 2005
The Shiny Bum singers are a wonderfully talented group of past & present public servants with outsourced representatives from universities and the private sector who bring specialist skills (eg an ability to sing).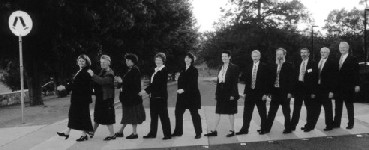 They perform the traditional work songs of the public service in traditional working dress, utilizing that iconic tool of the public Service, the overhead projector, to carry the message of life in public service town, our nation's capital.
Every year they take a junket to Sydney, bringing old favourites and new songs.
support is provided by the
Offshoots
... Shiny Bums working on special projects, on their own or in small teams and taskforces.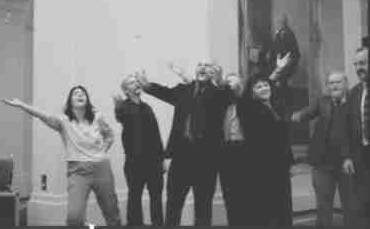 The Loaded Dog takes place in the upstairs hall of the Annandale Neighbourhood Centre in Johnston Street - the former Annandale Town Hall.
Doors open 7:40 - show starts promptly at 8:00 with floor acts.
Tickets: $14 ($12 concessions)
For more info contact Sandra Nixon (02) 9358 4886.
Coming up at the Dog . . .
Oct 22nd - Touchwood + Helen Rivero
Nov 26th - Peter Hicks friends help us celebrate our 15th birthday!
Dec 10th (2nd Sat) - The Roaring Forties + The Wheeze Suck Band
Feb 25th 2006 - Martin Pearson & The Unfinished Spelling Errors of Bolkien - don't miss it - mark it in your calendar