Mini-Review of November Loaded Dog, Peter Hicks and Carole Garland

By Sandra Nixon
Posted Friday, December 16, 2005
Someone suggested we can have a 20th birthday next year!
We started well with a set from Dof founder Carole Garland, who informed us the Dog was really 19 & a half years old and not 15 as advertised. The time before the move to the Annandale Neighbourhood Centre was inadvertently omitted from the history she wrote in 1997. Someone suggested we can have a 20th birthday next year! Carole entertained us with songs, tunes & reminisces of the early days.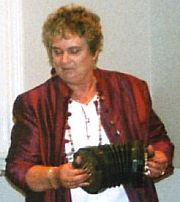 Peter Hicks, also a Dog founder, sang the first song he ever sang at the Dog, as well as old favourites, including 'Pink Triangle' & 'Ned Kelly', and new songs. Sedition was a big theme of Peter's two sets, but he touched on many social justtice themes. And naturally the famous singing audience was in fine voice.
Peter & Geoff Francis (also a Dog founder) travelled from Tasmania to be part of the evening. Another founder, Garry Robilliard, did a floor spot, and a fourth founder, Peter Kerrawn, was in the audience. Carole baked a birthday cake using the recipe given to her years ago by another founder.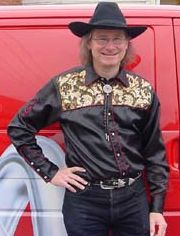 Artists who had appeared in the first year at Annandale were also represented. Bob & Margaret Fagan were in the audience, and Jackie Luke, Margaret Walters & John Dengate gave us a floor spot. John's & Margaret's spots were recorded by Wayne Richmond for upcoming CDs - John's will be heard on the Chris Kempster album and Margaret's will be on the 8-Hour day album. Details will follow when the albums are released.
Thanks to all the volunteers, especially those who rallied around at short notice when expected helpers were not able to make it, to Prue and Margaret for collecting money, Prue for also supervising the kitchen, and to Dale Dengate who was volunteered when she arrived!