Review: Huldrefolk & Mary-Jane Field @ The Loaded Dog

Saturday 26th May 2007
By Mike Davis
Posted Sunday, July 22, 2007
Tonight opened, to a full house, with John Warner singing 'Piper on the Hilltop' (with the picture of the piper firmly planted atop the hill), followed by the Bold Admiral, with Margaret Walters supplying clear harmonies.
The first featured artist was Mary-Jane Field who I know as a choir leader and I was interested to hear her as a solo performer. Mary-Jane's background in South American, Latin and northern American music was well exhibited in her performance, as was her love and enthusiasm for the music she performs. She accompanies herself on the guitar, sometimes with percussion, but mostly sang a-cappella.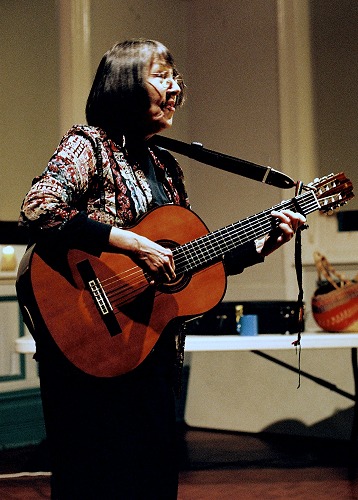 I was taken back 30 years by Donna Donna, enchanted by a song about a South American fisherman in Spanish and a Henry Lawson poem set to music. At one stage various percussion instrument and rattles of every type were handed out and used enthusiastically by the audience as accompaniment to another Latin American song. Mary's songs cover a wide range of topics from humour to issues of the invasion of Australia by Europeans, through to English, Spanish and Portuguese languages and Anglo a Latin culture. It was an engaging journey which I enjoyed very much.
The main featured Artists were HuldreFolk - Paul Hemphill, and Yuri the Storyteller.
Paul Hemphill was at his astute best
People do not tend to think of storytelling as entertainment. Yuri the Storyteller, however, puts paid to that idea. I have seldom been quite as enthralled as I was tonight as Yuri spun his magic. A great mix of humour, wisdom and horror in prose and verse. His use of candlelight gives such atmosphere to the performance.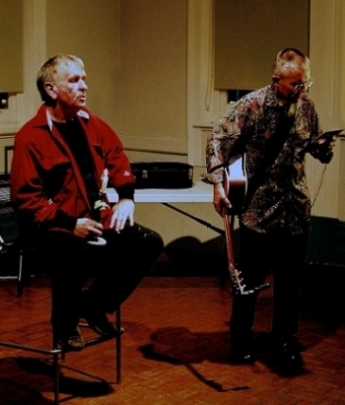 Yuri's standout pieces for me were the first story about the Russian family and monkey paw and his rendition of Lawson's haunting poem Do You Think I Do Not Know. I also loved McArthur's Fart.
Paul Hemphill was at his astute best as he ranged through his repertoire. Songs about the misfortune of being born Goliath, advertisements to encourage ancient Britons to tour Rome, the Advance of Mongolia, and the torturous Inquisition were among a swag of funny songs. The performances ranged from the romantic to the political.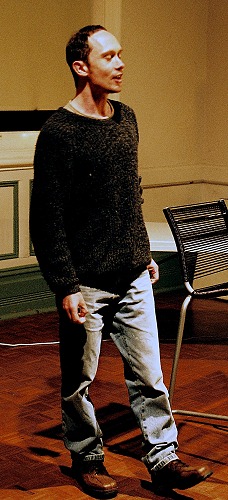 Adrian Hill had a floor spot and gave us a very funny song about a Nikon F camera and Neil Young's Captain Kennedy by way of tribute to absent fathers.
An engaging evening
Photos - Bob Bolton