Mini Review of Martin Pearson @ The Dog

February 2006
By Sandra Nixon
Posted Monday, March 6, 2006
It was a wonderful night of laughter & music when the incomparable Martin Pearson showed the appreciative Dog audience why LOTR should have been a musical.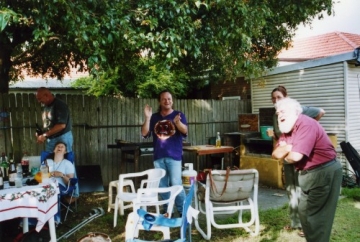 Martin wrote nine songs that encapsulated the three books, the movie trilogy & the Tolkien industry, and naturally enough arranged them in three parts,
Part One: "The Lost Grocery Lists of Tolkien",
Part Two: "The Unfinished Spelling Errors of Bolkien" and
Part Three: "The Digitally Re-mastered Thumbprint of Tolkien"
This was the first time the whole show has been performed in Sydney, tho Martin has teased us in the past with a song here & a song there, at concerts & social events .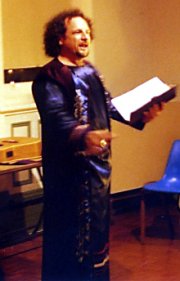 Martin was dressed to the nines in embroidered satin & velvet, definitely unsuitable for a hot humid Sydney night, but what artist does not suffer for his art?
In spite of the horrible hot humidity, Martin enjoyed performing at the Dog & will definitely be back.
At the Loaded Dog, Martin had us all rolling round laughing (as he usually does). In two short hours he took Tolkein and his epic and made it into a hilarious spoof. I have seen "Bolkein" before, but every time there seems to be something new and different, just a little morsel to keep an audience on their toes.
"O dear Lord, I need a loo break"
And that song at the end, "O dear Lord, I need a loo break", doesn't that say it all about those movies? (Dawn & Mike)
If you missed it you can always buy the CD!

See ya at he next Dog!
..........................................................
2006 so far - 4th Saturdays, except April
25 March - Jason & Chloe Roweth + Miguel Heatwole
29 April - (5th Sat) Pat Ryan & Ken Howard (UK) + Lyrebird
27 May - Craig & Simone + Nick Lock - 1 hour each
24 June - Ann Ridgway + Tony Eardley
22 July - Blue Mountains (Union) Singers + Just a TAD & Moz - 1 hour each
23 Sept - Songs of Sedition with The Shiny Bum Singers + John Dengate + lots of other seditious singers