Touchwood + Helen Rivero @ The Dog

Saturday, October 22nd, 2005 - 8pm
By Sandra Nixon
Posted Sunday, October 16, 2005
Touchwood started out with each member writing a list of songs they would like to perform and the candidates included 16th century French chansons, a number from the soundtrack of The Singing Detective and songs by the like of Stephen Foster, Elvis Costello and the Finn brothers, along with Phyl Lobl's setting of Lawson's Past Carin'.
an amazing mixture of songs
Clearly Touchwood was going to be hard to categorise.
And they still are - so come along and listen to an amazing mixture of songs sung in wonderful 3-part harmony, with occasional accompaniment on vihuela, guitar and cello.
Helen Rivero
"The songs composed by Helen are simply superb... warmly sinuous and natural, covering themes that bear Gaelic, Spanish, North African and Jewish overtones and moods that range from joy to heart-felt contemplation.
warmly sinuous and natural
"Helen sings beautifully ... with hauntingly dulcet tones made more pointed by the fact that she knows how to use her voice to tell a story even on the selections where you may not know the language."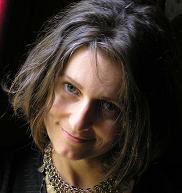 The Loaded Dog takes place in the upstairs hall of the Annandale Neighbourhood Centre in Johnston Street - the former Annandale Town Hall.
Doors open 7:40 - show starts promptly at 8:00 with floor acts.
Tickets: $14 ($12 concessions)
For more info contact Sandra Nixon (02) 9358 4886.
Coming up at the Dog . . .
Nov 26th - Peter Hicks friends help us celebrate our 15th birthday!
Dec 10th (2nd Sat) - The Roaring Forties + The Wheeze Suck Band
Feb 25th 2006 - Martin Pearson & The Unfinished Spelling Errors of Bolkien - don't miss it - mark it in your calendar