Danny Spooner & Kate Delaney @ The Dog

Saturday, August 27th, 2005 - 8pm
By Sandra Nixon
Posted Sunday, August 21, 2005
Danny Spooner
a favourite of audiences in Australia, the UK & the USA
Singer of traditional and contemporary folk songs of Britain and Australia with concertina and guitar, his passion is the expression of British and Australian culture through folk music.
During his 30 years in Australia, Danny has used his immense singing repertoire to teach British History and literature in universities and schools, and has added a range of Australian folk songs both traditional and contemporary.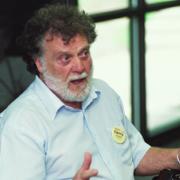 He is a favourite of audiences in Australia, the UK & the USA.
Danny has recorded 4 CDs ranging from sensitive love songs, to shanties, and traditional Australian songs of toil and reward.
Kate Delaney
she gets to the heart of a song
Kate's deep love of traditional music is evident in the way she gets to the heart of a song. Her repertoire ranges across Ireland, Australia & America, and includes songs of longing and life, and lots of humour.

For many years she performed with her soulmate & husband, Gordon McIntrye and they recorded a number of albums. She is currently working on her first solo album.
Kate has also toured in Europe with Rocky River Bush Band.
The Loaded Dog takes place in the upstairs hall of the Annandale Neighbourhood Centre in Johnston Street - the former Annandale Town Hall.
Doors open 7:40 - show starts promptly at 8:00 with floor acts.
Tickets: $14 ($12 concessions)
For more info contact Sandra Nixon (02) 9358 4886.
Coming up at the Dog . . .

Sep 24th - The Shiny Bum Singers + offshoots