Review- Chloe Hall + Roaring Forties @ The Loaded Dog

May, 2008
By Sandra Nixon
Posted Sunday, July 13, 2008
Dawn Davis's review of first part of the evening -
One of our regular performers, Gerry Myerson, began our evening with two songs sung in his usual thoughtful and pleasing style.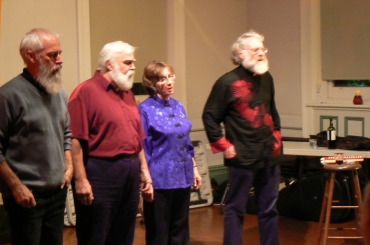 We were then treated to 40 minutes from the Roaring Forties. Margaret Walters, John Warner, Don Brian, Tom Hanson and Robin Connaughton make up this robust group who are now celebrating their 20th anniversary under that name. Unfortunately Tom, their wonderful bass singer, was missing because of ill health. Their huge repertoire of historical songs and sea shanties and their knowledge of the roots and histories of these songs, make the Roaring Forties a special group of performers.
One of the songs they performed was a tale of the clipper ship Marco Polo which sailed in record time to Australia during the time of the gold rush. They sang a couple of songs by Cicely Fox Smith, a Victorian lady who wrote many poems about the docks and the sea in the 19th century and collected much history. Many of her poems catch the emotion of her era. Home Lads, Home, is particularly poignant, addressing the sacrifice of soldiers and horses during the First World War and recalling their everyday working partnership in rural Hampshire. The Forties' arrangements of these songs are extremely stirring.
They also sang of whaling in Australia around Ballina and in Queensland in the 50's and 60's There is so much history in all sea shanties. They were originally designed to encourage and synchronise the work of crews on sailing ships and the Forties use them to great effect to encourage their audiences to join in their rousing choruses. The Forties don't just do shanties and their set finished with Don Brian's shearers' union song to the tune and theme of "Waltzing Matilda".
======================================
John Warner's review of the second part of the evening -
The Magic of Chloe Hall
Chloe Hall sang at the Loaded Dog in Annandale on 25th May 2008, and it was magic. I spent a good bit of time afterwards trying to understand what the magic was.
After all, Chloe is a songwriter who writes about her emotional life, and I find most singers who do this not to my taste. Many of them indulge in random melodic wanderings among complex chords which add boredom to the psychic sediment. Chloe is way beyond this stuff. What, then, was the magic that held the Dog audience silent and spellbound at some points, and singing softly supportive harmonies at others.
Granted, the Loaded Dog is Sydney's premier singing audience, with a great proportion singing harmonies. There's a well established magic in the context, but Chloe brought a magic of her own.
Let's look at the guitar. She uses an alternative tuning and builds her chords around the moving bass line. Others seem to use block chords. The tuning she uses seems to generate a waiting, pregnant tension. It opens a space and keeps that invitation open. Chloe uses pedal point structures, a fixed note around which chords move through harmonies and the odd intense dissonance. That tension has a breathless, waiting feel that keeps expectation on edge.
Chloe laughs, she watches her audience and makes eye contact. Her storytelling is open, fresh and she verbally invites us into the space made by her accompaniment.
She sings softly, with a crystaline edge and with syncopation. She has a big range and uses it subtly but powerfully, and all the time there is this sense of expectation, tension.
Chloe draws you in. Us shanty singers reach out, we project to the back and through the wall. Chloe does not lack the resources, but she chooses to draw the audience in. Hers is an intimate, welcoming performance.
What was superb about the Dog on the 25th May was that Chloe was as moved and delighted by the Loaded Dog's singing audience as we were with her. There was a definite feedback loop in which Chloe kept throwing us stuff to sing, we made a meal of it, and Chloe laughed and sang more.
I could celebrate the way that Chloe brought the 12 string out of her splendid Maton 6 strings, the elements of Indian Sitar that turned up in some of her modal instrumental breaks. I could jump up and down about her being one of those great people that can take one of the cliches we all know and put her own special spin on it, but the best I could do is to say, go and hear her, buy her CD's and fall under the magic of Chloe Hall.
(to join Chloe's mailing list, contact her through her website or Myspace site)