Review: Lyrebird + Eddy Sampson @ The Loaded Dog

Saturday 23rd June 2007
By Dawn Davis
Posted Saturday, July 21, 2007
The fact that we had a very small audience this month did not diminish the amount of enjoyment our performers gave us. We had an incredible mix of poetry, puppetry, traditional folk, original songs and brilliant guitar playing.
Our first floor spot was Tom Bryce who comes from the North coast of New South Wales. A singer and exceptional guitarist, his first song, "Nightingale" was captivating. I felt his guitar style was somewhat similar to Bob Fox. It had that classical feel that I always associate with Bob's playing. His songs were very melodious and, though his voice was quiet and sometimes the words were a little hard to understand, his singing style was very expressive.
Next Margaret Walters sang us a good rollocking song about press-ganging men into the merchant navy called "Shanghai Brown".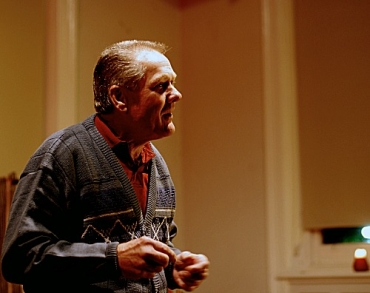 Our next performance was from Eddy Sampson, poet and storyteller. His choice of poems was mostly of Australian life both in town and country. His poems included both original works and those by Australian writers such as Gary Shearston and Blue the Shearer. He had a very humorous original poem called Dad's Faith, written about his father's attempt to build a boat inside the front room of the family house in Balmain. He also had a poem about his brother-in-law's embarrassment at wearing odd shoes in public.
Then he recited a poem about a chase between two cyclists, one of whom rode a brand new bike that he had just bought, and the other who rode an old out-of-date piece of equipment. The narrator of the tale, who had the new bike, was taken down a peg by the ease with which the old bike kept up, and in the end conceded defeat. His next offering was a very funny anecdote about Greasy George, the shearers' cook, who never took a bath.
Kate Henshaw and Pete Doherty make up the dynamic and professional duo, which is Lyrebird. The combination of Pete's guitar playing and singing and Kate's lovely voice, harmonica, recorder and keyboard are very engaging. They entertained with their eclectic styles of music, such as blues, traditional, a few golden oldies and even a bit of puppet theatre.
I feel that this is the best performance I have seen from Lyrebird and I'm sure there is much more still to come.
They started their first set with a song called Kate Kelly's Request, a plea from Kate Kelly to her brother Ned to think of her while he is away. Their second piece was a lovely instrumental with guitar and recorder. Then a song about a couple and their lives as they grow old. There was a haunting song called House on a Hill. Their next song, Saturday Night, is about to be put to a video clip.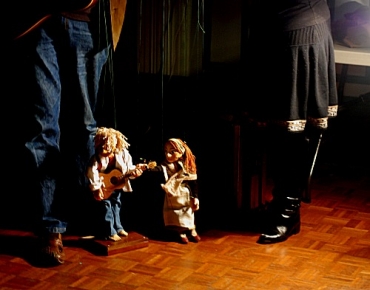 To finish the first set the overhead lights were turned on and two marionettes called Twiggy and Sticks were introduced to us. They have been cleverly put together by Kate, and Sticks especially is a real character and a work of art. Operated by Pete as he plays his guitar, he holds a small guitar and actually looks like he is playing it. Twiggy and Sticks will be part of the up-coming film clip. There was a small glitch when one of Twiggy's arm strings fell off mid-performance, but as they say in the business, "the show must go on" and the charming performance continued.
After the break Eddy came back and performed a poem he had overlooked in his original performance. It is his own version of a poem called "Lone Dog". He had very cleverly Australianised it while keeping the meter he liked.
When Lyrebird continued the second half, they began with a stirring battle song. Pete played a masterful slide guitar in their next song, a bluesy number called The Old Must Heal. A very poignant harmonica tune at the end gave it a nice touch. Kate sang a lovely gentle song of healing which she followed by leading us all in Where have all the Flowers Gone. She followed this with a song a frustrated wife. The boogie-woogie piano accompaniment gave it an up-beat feel-good sound.
Then Kate used her keyboard harp for accompaniment to a well-known traditional song of sailors coming on shore to court the pretty girls. The girl in the story is completely taken in by the sailor's story of riches and of course is turned down by the sailor when she suggests marriage. The bodhron was used to great effect to make it sound very Celtic. The lovely song "New Shoes" was a a sad sweet song of parting with a melodious guitar break. Then for something completely different there was a bluesy number with slide guitar, which told of a rich father getting his wayward son out of trouble. Then Kate led us all in the old Joanie Mitchell classic Big Yellow Taxi.
To finish off Kate sang Watching for the Rain, a very poignant reminder of what its like for a family living through drought in the country and the torment of waiting for rain that never comes.
I feel that this is the best performance I have seen from Lyrebird and I'm sure there is much more still to come. Their harmonious singing and enthusiastic stage presence and professionalism leave their audience captivated.
This is folk music at its best, creative professional performances with strong story lines and original songs, references to Australian folklore and some references to some folk golden oldies.
Photos - Bob Bolton