Broomhall, Spillane & De Santi + Kate Delaney & Denis Tracey @ The Loaded Dog

8pm, Saturday 27th March 2010
By Sandra Nixon
Posted Thursday, February 11, 2010
N.B. The evening starts promptly at 8pm with 60 minutes from Kate & Denis, then 90 minutes from John, Johnny & Dave - so don't be late!

Broomhall, Spillane & De Santi - Songs from The Ozone Picture Show
During the 1980's and 90's, John Broomhall recorded 100 original songs and musical settings of poetry in the Australian Tradition, by writers such as Douglas Stewart, Mary Gilmore, Jim Grahame, Ruth Park, Louis Esson, and Kenneth Slessor.
Songs from The Ozone Picture Show is both a retrospective of these recordings, and a showcase of some of the 70 songs and compositions written by him during the present decade, including recent settings of verse by Peter Skryznecki, Dimitris Tsoulamos, Bill Scott, Ethel Turner, Nettie Palmer, Bertoldt Brecht, John Masefield, William Butler Yeats, Robert Frost, e e cummings…
Master musicians, Irish whistler, Johnny Spillane, and accordionist, David De Santi, join John Broomhall in concert in new interpretations and arrangements of his songs.
Johnny Spillane, whose music has been featured on over 50 albums and in a number of films including the 1996 remake of Moby Dick and Under Black Skies (2009) has performed in many iconic bands including North Bulli, Settlers Match, Denizen, Mad Marion and Wongawilli, as well as being an integral part of the organisation and management of festivals on the NSW South Coast. He played on John Broomhall's early albums and was featured in ABC radio programs devised and presented by John Broomhall for David Mulhallen's Songs and Stories of Australia, including The Bush My Lover; Glitters and Waters: The Songs of Australian Shorelines; and The Old Bush Songs: A Tribute to Nancy Keesing.
The redoubtable David De Santi has worked tirelessly over the years to promote Australian traditional music, and to involve an ever widening audience of younger people in contemporary folk music. He was the founding editor of the national folk magazine, Trad and Now and has compiled many collections, including Australian Traditional Tunes, and The Zumpa Collection of Italian Folk Tunes. He has also published song books by other folk artists such as Phil Garland and Brad Tate.
Dave plays in many line ups including Zumpa, and the Big Snore Hammers, and remains the driving force behind the much acclaimed and internationally travelled, Wongawilli, who for the past 24 years have kept toes tapping at the weekly dances in the old Coal mining village of the same name. He has directed the Illawarra Folk Festival since its inception in 1985, and is in his second year as the artistic director of The Snowy Mountains Festival of Music.
John Broomhall's early recordings on vinyl (Broken Hill Miner, The Days of the Anzacs and Drifting Down the Darling), have been reconfigured recently by Lindsay Martin and are now available in a CD format, along with My Spirit Country and the best selling, Free as the Breeze.
Kate Delaney & Denis Tracey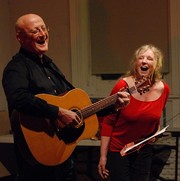 Kate and Denis have been well-known performers in Australian folk music for many years, performing at all the major festivals including Woodford, Port Fairy and the National Folk Festival in Canberra. More recently they played at the Majors Creek Folk Festival (October 2009) and Cygnet Folk Festival (January 2010)
Separately and together they have performed on television and radio, and appeared with international artists such as The Fureys, Clannad, The Battlefield Band, Andy Irvine and Rory McLeod.
Kate was an original member of the Larrikins with Warren Fahey and has performed with various musical combinations, as a solo artist, and with her husband and musical partner Gordon McIntyre until his death in 1999.
Denis has also played as a solo performer and in various combinations.
Their singing features great songs and beautiful harmonies. They are funny and spontaneous.
There will be a Special Guest Appearance by Ross Campbell (UK) after supper. Ross lives in Fleetwood in Lancashire & appeared at the Dog in 2007 on his last visit to Australia. He is a member of Red Duster with retired merchant mariner, songwriter & collector Ron Baxter.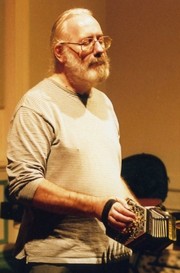 Red Duster has 2 CDs - Farewell to the Clan Line - Songs & Stories of the British Merchant Fleet, and North West Passage: The Fate of Franklin & his Gallant Crew. Ross has also appeared as Narrator & a performer on The Final Trawl: The changing fortunes of the Post-War fishing community in Fleetwood, Lancs.
The Loaded Dog Folk Club -

Annandale Neighbourhood Centre, upstairs, 79 Johnston St, Annandale -
Enquiries:
(02) 9358 4886
Broomhall Spillane De Santi photo courtesy John Broomhall
other photos Bob Bolton