Review: Triantan & Carrl Myriad @ The Loaded Dog

March 2007
By Dawn Davis
Posted Saturday, April 14, 2007
March at The Loaded Dog had a decidedly Celtic flavour. We heard from Carrl Myriad, singing mostly Cornish and Breton songs; Triantan, who specialise in traditional Celtic music, and two other singers (with Scottish connections) who also did some traditional, as well as modern, songs.
The first floor spot was from Ross Campbell, a Scottish singer and concertina player now living in Fleetwood on the coast of Lancashire. He sang songs courtesy of Ron Baxter, collector of sea songs. His first song was about the Canadian trawlers and their experiences at sea. His next song was called "The Silent Walkabout". This was a rousing song and Ross's brisk singing style did it great justice. This song was about the fishing smacks that plied their trade off the shores of Fleetwood, and in particular about George Campbell and the boat called the Hyatt moored at Jubilee Quay.
John Warner then got up and recited a great poem called Goodrabaringar about childcare and the issue of overprotection of children for their safety to the detriment of fun and experience. Although this was a fairly humorous poem, John managed, as he nearly always does, using his voice to dramatic effect, to put across a very important message.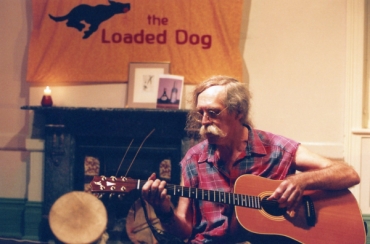 Carrl Myriad wears quite a few different hats in his life as a singer and guitar player. He sang the sweet song about a nightingale and finished off with the last verse in Cornish. He used his tenor voice to great effect in this song. Then there was a song in Breton from the 1600s. He followed this with a traditional Irish song called The Fairy King about a mother's grief for the loss of her fairy boy and her hope to meet him in Heaven as an angel. For this song he played bazuki. He followed it with a traditional Cornish song called "Strawberry Leaves". This was your typical "I walked out one morning" song and met a fair boy. The next song (my personal favourite) told a story about St Keiran, who tried to convert a red fox to Christianity. He then went to sleep and when he awoke he found that a blackbird had laid her eggs in his hand. As is the nature of a saint, he stayed still until they hatched and flew away. Next there was a lovely version of "The Summer is A-cummin In" sung to a very lively tune which the audience joined in wholeheartedly. His last song was the well known "The Rose of Allendale", a very fitting number to finish off a set so inspired by the Celtic theme.
Judy Pinder, Andrew Woolcott and Miguel Heatwole make up Triantan. There is more to Triantan than your modern Irish airy-fairy pop sound. There is delicious harmony, great presentation and strong singing. Their repertoire ranges from traditional Gaelic songs, to union and mining songs from both Australia and Britain. They also sing more modern songs written by such talented people as Miguel himself.
Judy's accompaniment on the bodhran made the unusual harmonies in the first Gaelic song sound all the better and the strong beat made the tune very catchy. They did a lovely song called "The Magpie" about the wisdom of the magpie among all the birds. The tune was full of beautiful discordant harmonies. There was a terrific rendition of a traditional song about a woman who lets the devil into her house and the torment ("hell") she puts him through in bed. They then performed a Gaelic song, which they called Triantan's version of "We Will Rock You". It was a very typical traditional Celtic tune, slow, fierce-sounding and very stirring. They did a 300-year-old traditional walking song used when beating wool for felt etc. Having made felt myself, I can imagine how this song would have spurred the women on as they worked, in the same way that sea shanties were used to keep the sailors working together in time. Then for something a bit different, we had a very jolly grog song. It had a great chorus for all to join in. Judy sang a John Dengate song about the closing of the family's apple orchard in Carlingford and the singer's childhood memories of this and his father's employment in the metalwork industry.
After our break we had a few songs from Stewart Davison, an English singer living near Loch Lomond in Scotland. His first song concerned a man whose wife cut off an extremely important part of his anatomy. I think the audience was not sure whether to laugh or cringe with the painful image. He did a great rendition of The Wild Rover that the whole audience joined in. There is nothing like a good rousing Irish song to get everyone singing. His finale was a very funny song about the rescuer of a tortoise and the trials the poor reptile goes through at the hands of its would-be protector.
On their reappearance, Miguel sang "The People Have Songs", a great one for us to raise the roof. Triantan did King Willie to a Breton tune, a song which has been sung by many people including Cloud Street. We then had two stirring songs of transportation to Australia. The second was Anderson's Coast by John Warner about some men who escape from incarceration in Tasmania, steal a boat and become wrecked on the coast of Victoria. I believe this is one of the best songs of transportation I have heard. We then had three mining songs. The first, Close The Coal-house Door, is about the destruction of a school in a mining village in Wales and the tragic loss of young lives. The second was a song about working hard for fair pay, and the third was a rousing shovelling song. Fittingly, and in keeping with the general theme of the night, was a traditional Irish song "The Parting Glass".
The warmth and easy camaraderie on stage contributed much to our enjoyment. It was great to see people having fun performing music with each other. Triantan are about to embark on an overseas tour soon. We wish them all the best and feel sure their tour will be a great success.