Loosely Woven return to Sutherland Acoustic

7.30pm, Thursday 14th September 2017
By Jenny Watson
Posted Thursday, August 31, 2017
Loosely Woven is a community-based group of instrumentalists and singers who present light-hearted folky sort of acoustic concert/cabarets. On this occasion there will be approximately 23 performers and the instruments will include: violins, cello, flute, saxophone, clarinet, trumpet, recorders, concertina, melodicas, xylophone, guitars, keyboard and percussion.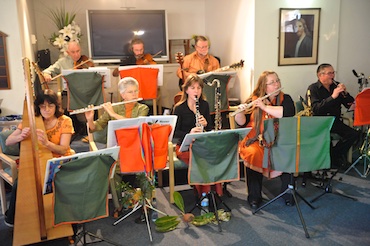 The program is amazingly varied ranging from Sonny & Cher to Grand Opera! :-)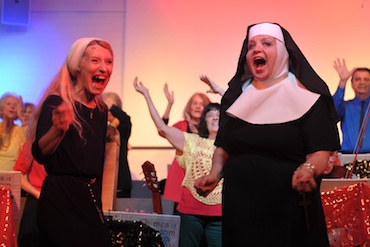 It will open with the famous title song featuring the melody from Dvorak's New World Symphony.
Well known items will include:
All I ever need is you (Sonny & Cher)
Bei Mir Bist Shein (Israel)
Killing Me Softly (Roberta Flack)
Sway
The Rose (Bette Midler)
You're my world (Cilla Black)
Lord of the Dance
Fix You (Coldplay)
Nutbush City Limits (Ike & Tina Turner)
Silent Night (a rather different but beautiful arrangement)
Jacob's Ladder
The concert is a fundraiser for Rev George Capsis' houses for the disadvantaged.
It is not often that the ensemble comes south so don't miss them - their joy is real!
See you at the Tradies (meals very reasonable too so you can make a whole night of it)
Yours in music,
Jenny Watson for Sutherland Acoustic
Sutherland District Trade Union Club - The Tradies
Cnr Manchester Road North & The Kingsway, Gymea
Entry: $15 (pensioners $10) (Kids <12 free!)
Contact: Maeve (02) 9520 5628 or Jenny on (02) 9576 2301 after 6pm.
Session Night - Don't forget our monthly session nights (4th Thursday) at 7.30pm. Come along to a friendly jam with warm supportive fellow jammers. All welcome. All encouragement given no pressure. Any style or standard is fine. No charge. Held at same place as above but usually in the Plush room which is downstairs past the coffee shop. For more info call (02) 9520 6180.
Tune Session Night - 4th Friday of the month from 7.30pm. (Kaimea Room). Stringed and other instruments welcome. Ability to play with others and have basic chord knowledge. Welcome to listen. Phone Ian Knight (0438) 830 374.