Nick Rheinberger at Sutherland Acoustic

7.30pm, Thursday 8th September 2016
By Jenny Watson
Posted Saturday, July 2, 2016
Nick Rheinberger is funny, frank, and sometimes, quite funky. He's an ABC radio presenter, poet, comedy writer and bandleader. playing his patented "Acoustic Cabaret". Watch him take half a dozen exotic instruments and some galvanised iron and spin a few yarns, rhyme a few lines, and whip you into a whimsy.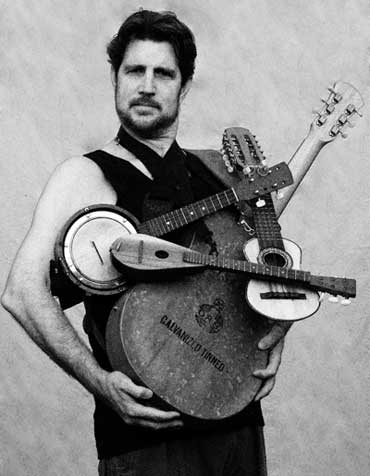 Nick has released three albums, and has hosted two Good Friday live concerts broadcast around Australia from the National Folk Festival. He's also written sketches and jokes for Good News Week, BackBerner, Life Support and the many others who paid him.
Nick will be joined by Rick Falkiner on bass and guitar. Nick and Rick occasionally play old French jazz and blues in a trio called "Les Bleus". Ask them about the pronunciation.
See you at the Tradies (meals very reasonable too so you can make a whole night of it)
Yours in music,
Jenny Watson for Sutherland Acoustic
Sutherland District Trade Union Club - The Tradies
Cnr Manchester Road North & The Kingsway, Gymea
Entry: $15 (pensioners $10) (Kids <12 free!)
Contact: Maeve (02) 9520 5628 or Jenny on (0403) 673 317.
Session Night - Don't forget our monthly session nights (4th Thursday) at 7.30pm. Come along to a friendly jam with warm supportive fellow jammers. All welcome. All encouragement given no pressure. Any style or standard is fine. No charge. Held at same place as above but usually in the Plush room which is downstairs past the coffee shop. For more info call (02) 9520 6180.
Tune Session Night - 4th Friday of the month from 7.30pm. (Kaimea Room). Stringed and other instruments welcome. Ability to play with others and have basic chord knowledge. Welcome to listen. Phone Ian Knight (0438) 830 374.