Freshwater & Kerrie McGuire at Sutherland Folk Club

7.30pm, Thurs 14th September 2006
By Jenny Watson
Posted Friday, September 1, 2006
Sutherland District Trade Union Club (The Tradies)
Cnr Manchester Road North & The Kingsway, Gymea
Entry: $10
Contact: Jenny on (02) 9576 2301 after 6.30pm or Allan (02) 9520 6180 or Linda (02) 9527 1563.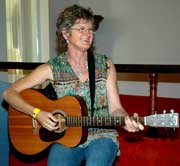 Freshwater- the wonderful combined sound of harpist Cliona Molins and vocalist/multi instrumentalist Christine Wheeler. You all know them separately, now come and see how amazing they sound as a duet. Refreshing, new and different.
Kerrie McGuire - Recently completing her first CD Reflections, Tasmania singer/songwriter Kerrie McGuire's gentle style and outstanding voice is sure to impress.
Floor Spots welcome! - Any standard.
Further info: ph Jenny 9576 2301, Allan 9520 6180 or Linda 9527 1563

Session Nights
Don't forget the Session Nights take place on the 4th Thursday of every month (except January). All are welcome to come and join us for a friendly jam, singalong, or to say a poem!