Hooper & O'Toole at Sutherland Acoustic

7.30pm, Thursday 8th October 2015
By Jenny Watson
Posted Saturday, July 18, 2015
Hooper & O'Toole are the best celtic duo in Sydney today. Playing red hot jigs and reels and singing all your favourite Irish songs by Christie Moore, Dubliners,Pogues, Flogging Molly, Saw doctors.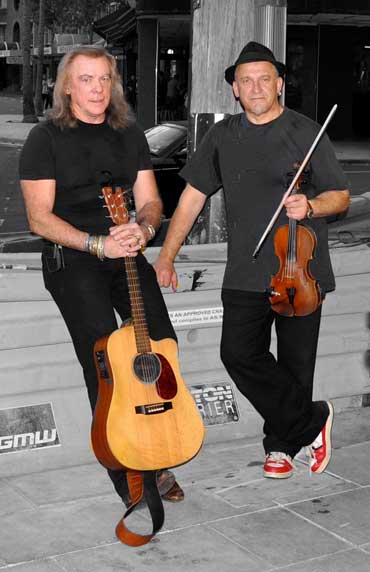 They will have you singing along..and up and dancing in no time!
Songs such as: Tell me Ma,Star of the County Down, Spancel Hill, Black Velvet Band, Dirty Old Town, 7 drunken nights, Green and red of mayo, I wish I was back home in Derry, Black is the colour, Fairytale in New York, Wild Rover...plus N17, Joyce Country Ceili band..plus a lot more. With over 6 hours of Irish songs in their repertoire . . . plus many great Irish tunes.
See you at the Tradies (meals very reasonable too so you can make a whole night of it)
Yours in music,
Jenny Watson for Sutherland Acoustic
Sutherland District Trade Union Club - The Tradies
Cnr Manchester Road North & The Kingsway, Gymea
Entry: $15 (pensioners $10) (Kids <12 free!)
Contact: Maeve (02) 9520 5628 or Jenny on (0403) 673 317.
Session Night - Don't forget our monthly session nights (4th Thursday) at 7.30pm. Come along to a friendly jam with warm supportive fellow jammers. All welcome. All encouragement given no pressure. Any style or standard is fine. No charge. Held at same place as above but usually in the Plush room which is downstairs past the coffee shop. For more info call (02) 9520 6180.
Tune Session Night - 4th Friday of the month from 7.30pm. (Kaimea Room). Stringed and other instruments welcome. Ability to play with others and have basic chord knowledge. Welcome to listen. Phone Ian Knight (0438) 830 374.