Súnas at Sutherland Acoustic

7.30pm, Thursday 11th October 2012
By Jenny Watson
Posted Saturday, August 4, 2012
Our guest for October is Queensland's premier Celtic group, Súnas consisting of Sarah Calderwood (lead vocals, flutes & whistles), Mannie McAllister (bouzouki, mandolin & vocals), Paul Brandon (guitar, bodhrán & gazouki) & Michael Patrick (fiddle, mandolin, bodhrán & vocals).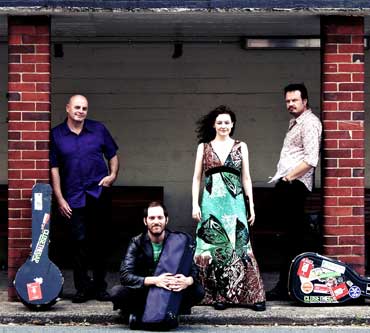 Súnas has been delighting audiences around Australia and overseas with their fresh and exciting take on traditional Celtic music. Known for their engaging and intense stage presence, they are a group not to be missed!
The support act will be local Celtic band 'The Ceilidh Collective'.
Sutherland District Trade Union Club - The Tradies
Cnr Manchester Road North & The Kingsway, Gymea
Entry: $15 (pensioners $12) (Kids <12 free!)
Contact: Maeve (02) 9520 5628 or Jenny on (02) 9576 2301 after 6pm.
Session Night - Don't forget our monthly session nights (4th Thursday) at 7.30pm. Come along to a friendly jam with warm supportive fellow jammers. All welcome. All encouragement given no pressure. Any style or standard is fine. No charge. Held at same place as above but usually in the Plush room which is downstairs past the coffee shop. For more info call (02) 9520 6180.
Tune Session Night - 4th Friday of the month from 7.30pm. (Kaimea Room). Stringed and other instruments welcome. Ability to play with others and have basic chord knowledge. Welcome to listen. Phone Ian Knight (0438) 830 374.