Di Khupe Heybners at Sutherland Acoustic

Thurs 14th October 2010
By Jenny Watson
Posted Tuesday, July 6, 2010
Sounds of Eastern Europe come to the Shire
Sutherland District Trade Union Club - The Tradies
Cnr Manchester Road North & The Kingsway, Gymea
Entry: $15 (pensioners $10) (Kids <12 free!)
Contact: Maeve (02) 9520 5628 or Jenny on (02) 9576 2301 after 6pm.
Sutherland Acoustic (formerly Sutherland Folk Club) is delighted to present:
Di Khupe Heybners - It could be said that Di Khupe Heybners (Yiddish for The Roof Raisers) is not simply a band, but a tight, collective friendship whose members and musical vision has constantly evolved. For the most part it has been an all girl quartet, beginning as a Jewish Klezmer band, expanding to include Russian, Slovak, Macedonian and gypsy music, adding songs and luscious harmonies from other folk cultures, all the while experimenting with instrumental textures, novel arrangements, and alternately lyrical and fierce improvised solos.
After having performed at festivals across the country, including in Canberra, Cobargo and Illawarra, and at numerous Sydney venues (Manning Bar, Qirkz, Bar Me), Di Khupe Heybners will be bringing their brand of folk to the Shire for the first time on October 14 at Sutherland Acoustic.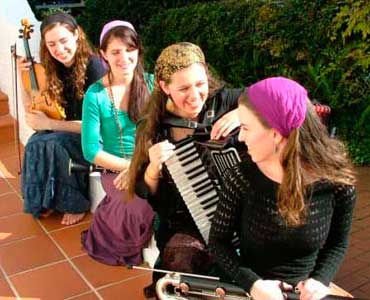 The current lineup includes the Shire's own Laura Bishop, a talented composer, singer and multi-instrumentalist, whose passion for music was encouraged at local Caringbah High School, where she first learnt the double bass which she now plays with the band. Her knowledge of the Bulgarian singing style, as a member of the Martenitsa Choir and former member of the London Bulgarian Choir, makes up a large part of the current direction of Di Khupe Heybners.
For this performance the talented Emily-Rose Sarkova will be returning to the band on piano accordion, joined by the fiery energy of Laura Altman on clarinet and the accomplished bow of violinist Mirabai Peart (returning from international touring with renowned singer-songwriter and harpist Joanna Newsom).
So what to expect on the night? Expect to have your ears caressed by a cappella women's voices, your heart warmed by both traditional songs and original compositions and your feet itching to dance to pulsating eastern rhythms.
Gwyn Cleeves will do an extended floor spot
Songs that Alan Chinn used to sing - Alan passed away last week. He was an extremely talented singer songwriter who was gentle and unassuming but a great suppporter of our club for the last 15 years. He put out 4 CDs of his original songs, songs mainly about the bush where he spent a lot of time around Coonabaran. He sang at the Wayside chapel and Bill Crews officiated at his funeral. He also sang for 15 years at a pub at Wentworth Falls in the 70s and 80s. In the last few years he was singing at nursing homes and the Miranda community centre for the handicapped and underprivileged. The world is a lesser place for his leaving it. He always encouraged people to perform including me and I treasure that.
Session Night - Don't forget our monthly session nights (4th Thursday) at 7.30pm. The next one is on Thursday 28th October. Come along to a friendly jam with warm supportive fellow jammers. All welcome. All encouragement given no pressure. Any style or standard is fine. No charge. Held at same place as above but usually in the Plush room which is downstairs past the coffee shop. For more info call (02) 9520 6180.
Tune Session Night - 4th Friday of the month from 7.30pm. (Kaimea Room). Stringed and other instruments welcome. Ability to play with others and have basic chord knowledge. Welcome to listen. Phone Ian Knight (0438) 830 374.