The Tinkers at Sutherland Acoustic

7.30pm, Thursday 14th March 2013
By Jenny Watson
Posted Wednesday, February 6, 2013
In March we will be celebrating St Patricks Day in true Irish style with the fabulous Irish folk band 'The Tinkers' who play the favourite songs and traditional tunes. With Alan Healy (from Dublin), a stalwart of the Sydney Irish music scene on vocals, guitar, bodhran & banjo, Evelyn Finnerty, a master of traditional fiddle (from Cork) and Peter Mackie, a skilled songwriter and bass play of Irish music. Songs, reels, jigs, hornpipes, polkas - they do it all!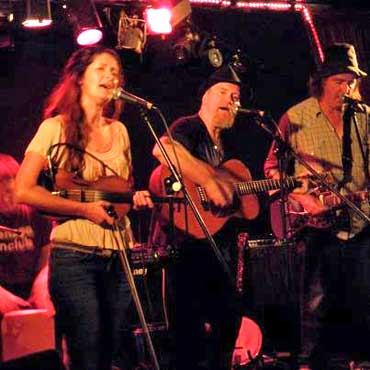 In the last year, gigs have included the MONA Museum and other Hobart venues, Marrickville Cultural Festival, Penrith Panthers, The Irish Society Ceilidh Wollongong and more.
Sutherland District Trade Union Club - The Tradies
Cnr Manchester Road North & The Kingsway, Gymea
Entry: $15 (pensioners $10) (Kids <12 free!)
Contact: Maeve (02) 9520 5628 or Jenny on (02) 9576 2301 after 6pm.
Session Night - Don't forget our monthly session nights (4th Thursday) at 7.30pm. Come along to a friendly jam with warm supportive fellow jammers. All welcome. All encouragement given no pressure. Any style or standard is fine. No charge. Held at same place as above but usually in the Plush room which is downstairs past the coffee shop. For more info call (02) 9520 6180.
Tune Session Night - 4th Friday of the month from 7.30pm. (Kaimea Room). Stringed and other instruments welcome. Ability to play with others and have basic chord knowledge. Welcome to listen. Phone Ian Knight (0438) 830 374.