Irish Night at Sutherland Acoustic

Thurs 10th March, 2011
By Jenny Watson
Posted Monday, December 20, 2010
This month is St Patrick's day month so we thought we would have an Irish themed night.
We are lucky to have in outstandingly talented Irish artist Siobhan O'Donnell who is out here teaching Irish music for the Gaelic Club. She will be accompanied by Cameron Mather who is an extraordinary talent in his own right considering especially he is still only 17 years of age and has an impressive musical resume behind him already. This will be a treat not to be missed.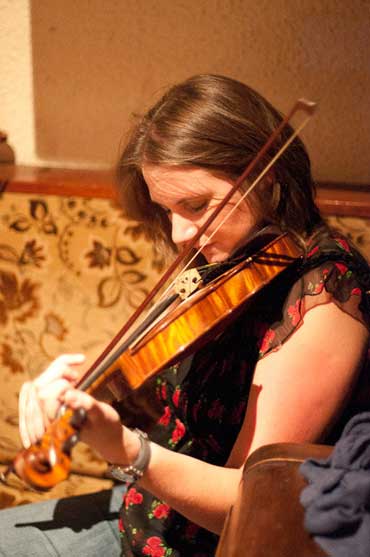 We also have local Hurstville Irish band called Mineral Turpentine who recently performed at Bulli Festival and will add to the flavour of the night with their lively traditonal Irish tunes.
So if you feel like it wear green and get some good old Irish luck happening by enjoying a great night of rousing and fun traditional music. Cake, floor spots (Irish tunes most welcome) raffles and balloons green of course!
Sutherland District Trade Union Club - The Tradies
Cnr Manchester Road North & The Kingsway, Gymea
Entry: $15 (pensioners $10) (Kids <12 free!)
Contact: Maeve (02) 9520 5628 or Jenny on (02) 9576 2301 after 6pm.
Siobhán O'Donnell is a multi- instrumentalist that hails from County Sligo. She plays traditional Fiddle, Bodhran, Guitar and is a talented vocalist. She is a holder of many all-Ireland titles in various categories, most notably winning the all-Ireland and World Senior Bodhran Championship in 2005. Siobhán has toured the world extensively with a number of traditional bands and Irish dance shows, namely "The Border Collies", and "Celtic Legends". She is also a sought after recording artist, having performed on many Solo CD's and has just recorded her first album of tunes and traditional songs. Siobhan is a highly regarded teacher of her instruments, and her teaching skills are in demand across the country and abroad. She is currently being commissioned by Irish National Association and the Gaelic Club in Surry hills to teach music in Sydney until June 2011.
Cameron Mather is a traditional musician and singer from Sydney, playing tenor banjo, guitar, bouzouki and mandolin. He was worked with visiting Irish artists such as Damien Dempsey, Gary Og, Declan O'Rourke, Liam Byrne and Paddy Casey as well as performing at a number of folk festivals around the country, notably the National Folk Festival, the Turning Wave Festival and the Illawarra Folk Festival. This year's National Folk Festival will see him team up with revered Irish traditional music family, "The Kelly's". Cameron is a versatile performer in that he plays both traditional Irish music as well as singing songs from Ireland, Canada, Scotland and Newfoundland. He has recently been performing a showcase of the songs of the great Stan Rogers, which has been very well received.
Session Night - Don't forget our monthly session nights (4th Thursday) at 7.30pm. The next one is on Thursday 24th March. Come along to a friendly jam with warm supportive fellow jammers. All welcome. All encouragement given no pressure. Any style or standard is fine. No charge. Held at same place as above but usually in the Plush room which is downstairs past the coffee shop. For more info call (02) 9520 6180.
Tune Session Night - 4th Friday of the month from 7.30pm. (Kaimea Room). Stringed and other instruments welcome. Ability to play with others and have basic chord knowledge. Welcome to listen. Phone Ian Knight (0438) 830 374.