Leon Rabin & Christina Mimmocchi at Sutherland Acoustic

Thursday 14th June 2012
By Jenny Watson
Posted Sunday, January 1, 2012
Two guest artists coming up for June:
Leon Rabin is a picker and a singer from out of the sixties who paid his dues in the clubs of London and then across the USA, basing himself in New York's Greenwich Village. He's a little bit folky, and a little bit country and he sings traditional and contemporary songs, all delivered relaxed with a dash of humour, and room to sing along. if the spirit moves you.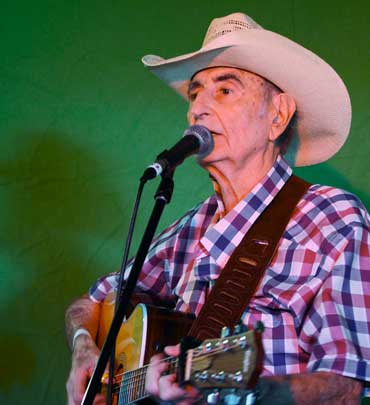 Christina Mimmocchi - Christina's recently recently-released debut solo cd is Rumours of Summer. There are eleven songs that take you on a musical journey best described as "part-social-landscape, part-imagining". They are songs evocative of living close to the wide, endless sea and beautifully played by some of this country's finest musicians including Sandy Evans, Brett Hirst, Jess Ciampa and a mysterious collective known as the Dark Sea Chorus.
Although this is Christina's first offering as a songwriter in her own right, she has been writing for, recording and touring with groups including the iconic Blindman's Holiday and Touchwood for the past twelve years. In those groups she honed her skills in arranging and vocal harmonies and performing music from non-Anglo cultures including music from her own Italian background. In addition to these experiences, in 2009-10 Christina was awarded the National Folk Fellowship to arrange traditional Australian songs for a cappella choirs – an ambitious and very satisfying project. Rumours of Summer draws on all those experience and musical traditions but on this occasion Christina has taken the reins as musical director as well as composer, lead vocalist and instrumentalist. Christina will be ably supported at Sutherland Folk Club by Tim Watts on double bass and Sallyanne Brown lending vocal harmonies.
Love to see a big turnout for these two special people, I am confident it will be a special night so try and come along.
Sutherland District Trade Union Club - The Tradies
Cnr Manchester Road North & The Kingsway, Gymea
Entry: $15 (pensioners $12) (Kids <12 free!)
Contact: Maeve (02) 9520 5628 or Jenny on (02) 9576 2301 after 6pm.
Session Night - Don't forget our monthly session nights (4th Thursday) at 7.30pm. The next one is on Thursday 28th June. Come along to a friendly jam with warm supportive fellow jammers. All welcome. All encouragement given no pressure. Any style or standard is fine. No charge. Held at same place as above but usually in the Plush room which is downstairs past the coffee shop. For more info call (02) 9520 6180.
Tune Session Night - 4th Friday of the month from 7.30pm. (Kaimea Room). Stringed and other instruments welcome. Ability to play with others and have basic chord knowledge. Welcome to listen. Phone Ian Knight (0438) 830 374.