Golden Whistler at Sutherland Acoustic

7.30pm, Thursday 11th June 2015
By Jenny Watson
Posted Tuesday, May 12, 2015
Golden Whistler - Inspired by a shared love of connecting stories, people and places of times past to audiences today; Golden Whistler play enduring old time songs that are as enjoyable now as when they were first composed. They have performed at a number of festivals , venues in Sydney as well as being active participants at the Sydney Bluegrass and Traditional Country Music Association. Richard, a Guildford Banjo Jamboree banjo competition winner, also teaches clawhammer banjo.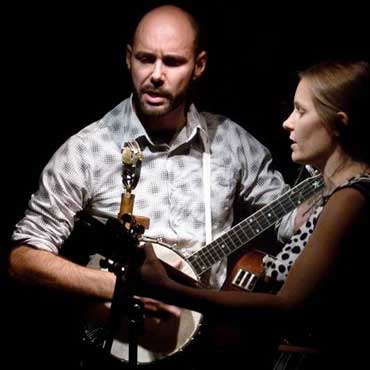 The band members are:
Kate Barker (vocals & guitar)
Richard Galluzzi (vocals & clawhammer banjo)
And as the support act we have:
Southern Gentlemen are five friends from south of Sydney who take pleasure in performing a range of old-time, bluegrass, folk and gospel songs and tunes with their own acoustic instrumentation and four-part harmonies. They draw influences from a wide range of acoustic music from around the world including Richard Thompson, Paul Kelly, Gordon Lightfoot, The Country Gentlemen as well as traditional sources.
The band members are:
Bruce Fumini (banjo, dobro)
Jim Dempsey (guitar)
Ian Knight (mandolin, harmonica)
Mark Mulhearn (double bass)
Gwyn Cleeves (guitar)
Yours in music,
Jenny Watson for Sutherland Acoustic
Sutherland District Trade Union Club - The Tradies
Cnr Manchester Road North & The Kingsway, Gymea
Entry: $15 (pensioners $10) (Kids <12 free!)
Contact: Maeve (02) 9520 5628 or Jenny on (0403) 673 317.
Session Night - Don't forget our monthly session nights (4th Thursday) at 7.30pm. Come along to a friendly jam with warm supportive fellow jammers. All welcome. All encouragement given no pressure. Any style or standard is fine. No charge. Held at same place as above but usually in the Plush room which is downstairs past the coffee shop. For more info call (02) 9520 6180.
Tune Session Night - 4th Friday of the month from 7.30pm. (Kaimea Room). Stringed and other instruments welcome. Ability to play with others and have basic chord knowledge. Welcome to listen. Phone Ian Knight (0438) 830 374.