Chloe & Jason Roweth at Sutherland Acoustic

Thurs 14th July, 2011
By Jenny Watson
Posted Wednesday, April 20, 2011
In July Sutherland Acoustic music club will present the amazingly talented couple Jason and Chloe Roweth along with the equally talented Jim Low as support act. They will share some songs as they recently collaborated on Jim Low's new CD Above the Creek Bed. They compliment each other well as they both sings songs about Australia, it's history and people and have a few yarns to share about the songs and the times which always proves fascinating.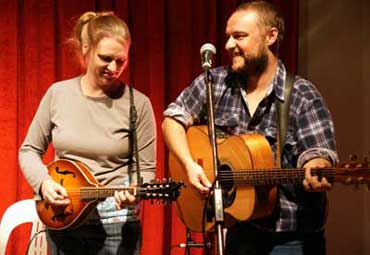 Sutherland District Trade Union Club - The Tradies
Cnr Manchester Road North & The Kingsway, Gymea
Entry: $15 (pensioners $10) (Kids <12 free!)
Contact: Maeve (02) 9520 5628 or Jenny on (02) 9576 2301 after 6pm.
Chloë and Jason Roweth have been performing and recording for over 18 years together. They share a passion for Australian folklore and bush music, getting great satisfaction out of bringing almost forgotten songs back to life again.
Always a captivating concert experience, Chloë & Jason combine a striking mix of older country and traditional styles, with fresh arrangements and a relaxed delivery, distinctly Australian in character. Their broad repertoire includes strong original songs, old-style ballads, well known bush songs, and lively dance tunes, accompanied by some fascinating background on where the items come from, and the performers who played them.
Session Night - Don't forget our monthly session nights (4th Thursday) at 7.30pm. The next one is on Thursday 28th July. Come along to a friendly jam with warm supportive fellow jammers. All welcome. All encouragement given no pressure. Any style or standard is fine. No charge. Held at same place as above but usually in the Plush room which is downstairs past the coffee shop. For more info call (02) 9520 6180.
Tune Session Night - 4th Friday of the month from 7.30pm. (Kaimea Room). Stringed and other instruments welcome. Ability to play with others and have basic chord knowledge. Welcome to listen. Phone Ian Knight (0438) 830 374.