Marcus Sturrock at Sutherland Acoustic

7.30pm, Thursday 12th January 2017
By Jenny Watson
Posted Friday, December 2, 2016
Marcus Sturrock plays eclectic songs & tunes on alternately tuned 6/7 steel string & baritone acoustic guitars, interweaving blues, Scottish, Middle Eastern, Irish, funk and more; a multi-instrumentalist, one of the founders of driving percussion on the guitars body, simultaneously playing contemporary and traditional guitar.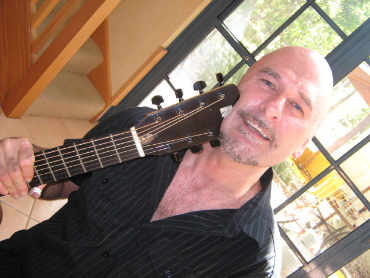 A session and concert musician, an audio engineer (runs 'Big Ear's recording studios'), plays and composes music for movies, dance, theatre, visual arts, radio, television, circus, theme park and dressage; holds guitar workshops, lectured in song composition and audio engineering at TAFE, performs with Indian dance and music ensembles, music therapy for the profoundly autistic, non neuro typical and the physically challenged, listed in the 'Who's Who of Rock, Judges song competitions, signed with 'Roustabout Records', plays on a CD along with Michael Fix and Jeff Lang.
See you at the Tradies (meals very reasonable too so you can make a whole night of it)
Yours in music,
Jenny Watson for Sutherland Acoustic
Sutherland District Trade Union Club - The Tradies
Cnr Manchester Road North & The Kingsway, Gymea
Entry: $15 (pensioners $10) (Kids <12 free!)
Contact: Maeve (02) 9520 5628 or Jenny on (0403) 673 317.
Session Night - Don't forget our monthly session nights (4th Thursday) at 7.30pm. Come along to a friendly jam with warm supportive fellow jammers. All welcome. All encouragement given no pressure. Any style or standard is fine. No charge. Held at same place as above but usually in the Plush room which is downstairs past the coffee shop. For more info call (02) 9520 6180.
Tune Session Night - 4th Friday of the month from 7.30pm. (Kaimea Room). Stringed and other instruments welcome. Ability to play with others and have basic chord knowledge. Welcome to listen. Phone Ian Knight (0438) 830 374.