George Mann (US) at Sutherland Acoustic

7.30pm, Thursday 11th February 2016
By Jenny Watson
Posted Saturday, December 12, 2015
George Mann sings songs from the last century of labour and social activism, and his own songs are powerful and funny takes on the state of his nation.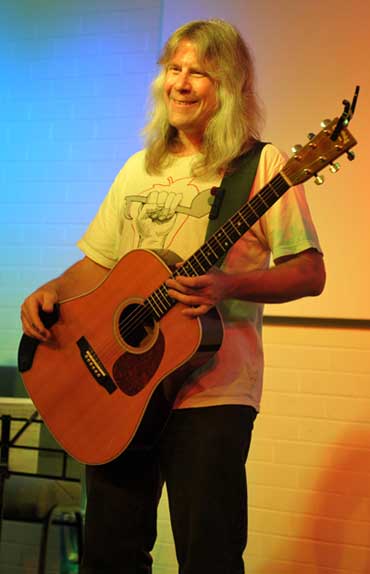 His concerts are part sing-a-long, part history lesson, and he can make you shout for joy, send chills down your spine or bring tears to your eyes in the same set.
George created and produced the 'Hail to the Thief!' anti-Bush CD series, which features such folk legends as Tom Paxton, Utah Phillips and Billy Bragg, and his work with veterans, unions and anti-war groups has kept him on the front lines for 20 years.
He has been touring Australia each of the past six years, bringing songs and stories of workers and struggle to folk audiences and festivals.
In 2010, George produced a compilation CD, 'Until You Come Home: Songs for Veterans and their Kin', about the effects of war on soldiers, familes, and the innocent.
His newest CD 'Portraits' was released in 2015 and he will be singing songs from that album and many classics, including songs to honour Joe Hill was executed 100 years ago.
See you at the Tradies (meals very reasonable too so you can make a whole night of it)
Yours in music,
Jenny Watson for Sutherland Acoustic
Sutherland District Trade Union Club - The Tradies
Cnr Manchester Road North & The Kingsway, Gymea
Entry: $15 (pensioners $10) (Kids <12 free!)
Contact: Maeve (02) 9520 5628 or Jenny on (0403) 673 317.
Session Night - Don't forget our monthly session nights (4th Thursday) at 7.30pm. Come along to a friendly jam with warm supportive fellow jammers. All welcome. All encouragement given no pressure. Any style or standard is fine. No charge. Held at same place as above but usually in the Plush room which is downstairs past the coffee shop. For more info call (02) 9520 6180.
Tune Session Night - 4th Friday of the month from 7.30pm. (Kaimea Room). Stringed and other instruments welcome. Ability to play with others and have basic chord knowledge. Welcome to listen. Phone Ian Knight (0438) 830 374.