New York Public Library & Gwyn Cleeves at Sutherland Acoustic

7.30pm, Thursday 8th October 2009
By Jenny Watson
Posted Tuesday, June 30, 2009
Sutherland District Trade Union Club -The Tradies
Cnr Manchester Road North & The Kingsway, Gymea
Entry: $15 (pensioners $10) (Kids <12 free!)
Contact: Maeve (02) 9520 5628 or Jenny on (02) 9576 2301 after 6pm.
Sutherland Acoustic (formerly Sutherland Folk Club) is delighted to present: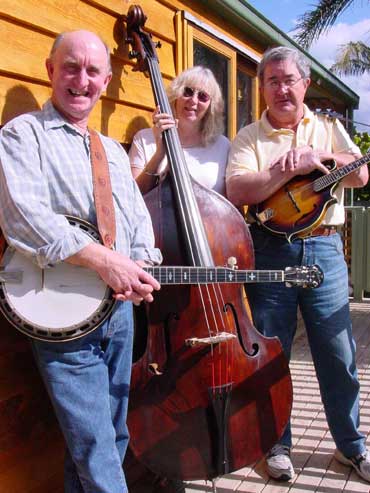 New York Public Library is a Sydney based band that has been delighting audiences for over 3 decades with their own unique blend of blue grass, folk, country and jazz with closely blended 3 part harmonies and spontaneous mad cap humour. Always popular!
Gwyn Cleeves - Gwyn has been a regular spot performer at our concert nights for many years, I guess we should call him "Our Gwyn"! He has a beautiful resonant voice and polished gentle guitar strumming. He grew up surrounded by Fats Waller and Welsh choirs and performed in bush bands in the 70's. He has a love of all 3 genres. He has a particular love of 60's pop and the crooners from the 30's. Gwyn's quiet, gentle presence always draws his audience and for awhile we are all one listening with the same intensity. You won't want to miss out on that feeling when we have Gwyn perform alot more of his favourites than he gets to do in his regular spots. Hope you can make it.
Floor spots welcome + raffles.
Put it in your diary now.
Please Note - Don't forget our monthly session nights (4th Thursday) at 7.30pm. The next one is on Thursday 22nd October (4th Thursday). Come along to a friendly jam with warm supportive fellow jammers. All welcome. All encouragement given no pressure. Any style or standard is fine. No charge. Held at same place as above but usually in the Plush room which is downstairs past the coffee shop. For more info call (02) 9520 6180.
The Shire Quire meets on Saturday mornings from 10am-11.30 in school terms at the Tradies club Gymea usually in the Plush room downstairs past coffee shop. We All welcome any standard. Men truly encouraged. Emphasis on social conscious songs. Leader: Mary Jane Field Cost: $10. Enq: Mary-Jane (02) 9399 6278.