Jan Preston & The Sign at Sutherland Acoustic

7.30pm, Thursday 11th February 2010
By Jenny Watson
Posted Wednesday, January 6, 2010
Sutherland District Trade Union Club -The Tradies
Cnr Manchester Road North & The Kingsway, Gymea
Entry: $15 (pensioners $10) (Kids <12 free!)
Contact: Maeve (02) 9520 5628 or Jenny on (02) 9576 2301 after 6pm.
Sutherland Acoustic (formerly Sutherland Folk Club) is delighted to present: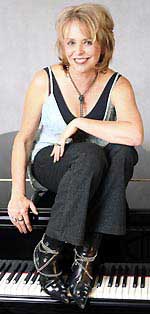 Jan Preston - Jan Preston is an astonishingly fine musician. Her vibrancy and enthusiasm are her trademarks as are her rhinestone boots and her effortless speed across the piano keys as she keeps audiences in the palm of her hand through her entire performances. She is often described as Australia's Queen of Boogie Piano. Her passion is jazz, blues, particularly 1920's boogie piano. She played with the likes of Bo Diddley and some of Australia's best jazz performers. She also embraces Winifred Attwell the iconic honky tonk piano player and she has performed sellout shows of Winnie's life and music. Jan is also a composer for films and tv including the iconic theme song to "Australian Story" . As she says" In a world that can at times be sad and stressful , there is nothing so uplifting as the piano boogie beat".
The Sign - The Sign are an experienced duet who have played their folk pop all around the world.
Floor spots welcome + raffles & Santa cake
Don't miss this exciting concert to kickstart the new year.
Session Night - Don't forget our monthly session nights (4th Thursday) at 7.30pm. The next one is on Thursday 25th February (4th Thursday). Come along to a friendly jam with warm supportive fellow jammers. All welcome. All encouragement given no pressure. Any style or standard is fine. No charge. Held at same place as above but usually in the Plush room which is downstairs past the coffee shop. For more info call (02) 9520 6180.
The Shire Quire meets on Saturday mornings from 10am-11.30 in school terms at the Tradies club Gymea usually in the Plush room downstairs past coffee shop. We All welcome any standard. Men truly encouraged. Emphasis on social conscious songs. Leader: Mary Jane Field Cost: $10. Enq: Mary-Jane (02) 9399 6278.