Marcus Sturrock and Buck & Deanne at Sutherland Acoustic

7.30pm, Thursday 12th February 2009
By Jenny Watson
Posted Wednesday, January 7, 2009
Sutherland District Trade Union Club -The Tradies
Cnr Manchester Road North & The Kingsway, Gymea
Entry: $15 (pensioners $10) (Kids <12 free!)
Contact: Maeve (02) 9520 5628 or Jenny on (02) 9576 2301 after 6pm.
Sutherland Acoustic (formerly Sutherland Folk Club) is delighted to present:
Marcus Sturrock comes highly recommended by Pat Drummond!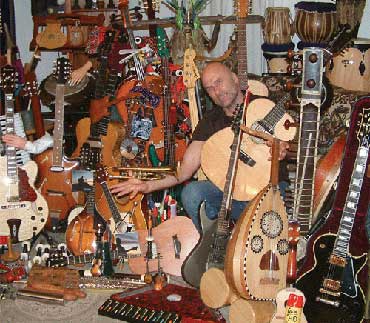 Marcus is an exceptional guitarist who has played at all the major festivals both here and overseas. He has composed and played music for dance, theatre, radio, theatre and tv. He is listed in the Who's Who of Rock and Roll and has performed with such artists as Robin Lumley (of David Bowie, Pink Floyd fame), Darryl Braithwaite and Tony McManus "the best Celtic guitarist in the World" and many more. His passion weaves an eclectic heartfelt mix of tunes and songs form Celtic to funk, Middle Eastern and more. Marcus sometimes uses one hand to play melodies or chords, his other hand simultaneously creates drum tones and rhythms on the guitar body. Through this Marcus has forged a truly unique sound from the acoustic guitar. Melody harmony and in your face rhythm on the one instrument which is absolutely astounding.
Marcus is not merely an adept guitarist, he has the happy ability to play music rather than just notes and to infect the audience with his own joy. Doug Spencer (Producer/presenter 'The Planet' ABC Radio National.

I believe this is one performance you just have to see this year.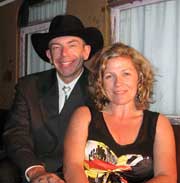 Buck & Deanne have recently amalgamated their talents to add and enhance each other's styles. Unique, funny and sometimes thought provoking songs written by Buck (Paul Buckberry) are given depth and warmth by Deanne's pretty vocals. Recently appearing at Tamworth Country Music Festival they were placed 4th in the duo section and Buck's song 'Learn your ABC's' came 3rd overall in the awards given by the Country Capital Music Association (CCMA). Buck and Deanne are very happy together and passionate about making music as a couple. They should round off what should be a superb night of entertainment at Sutherland Acoustic.
Put it in your diary now.
Please Note - Don't forget our monthly session nights (4th Thursday) at 7.30pm. The next one is on Thursday 26th February (4th Thursday). Come along to a friendly jam with warm supportive fellow jammers. All welcome. All encouragement given no pressure. Any style or standard is fine. No charge. Held at same place as above but usually in the Plush room which is downstairs past the coffee shop. For more info call (02) 9520 6180.
The Shire Quire starts Saturday 7th February. The choir meets on Saturday mornings from 10am-11.30 in school terms at the Tradies club Gymea usually in the Plush room downstairs past coffee shop. We All welcome any standard. Men truly encouraged. Leader: Mary Jane Field Cost: $10. Enq: Jenny (02) 9576 2301.