Mothers of Intention at Sutherland Acoustic

7pm, Thursday 11th Dec 2008
By Margaret Bradford
Posted Sunday, October 12, 2008
Sutherland District Trade Union Club -The Tradies
Cnr Manchester Road North & The Kingsway, Gymea
Entry: $15 (pensioners $10) (Kids <12 free!)
Contact: Maeve (02) 9520 5628 or Jenny on (02) 9576 2301 after 6pm.
Sutherland Acoustic (formerly Sutherland Folk Club) is delighted to present:
Mothers of intention

Winners of the 2007 OZ Music awards in the folk/world music category
The 'mothers of intention' are a spirited four piece band sharing a love of music and an enduring friendship. With vocals, guitars, fiddle, mandolin, recorder, bodhrans and doumbek.
Our extensive repertoire includes a vibrant mix of Celtic, Folk, Original and Folk inspired covers. From Irish standards, soulful ballads sung in three part harmony to fast jigs and reels and slow airs. An eclectic mix of music to dance or listen to.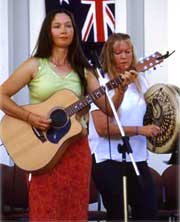 They have been together for six years and are a popular band being regularly booked at Folk Festivals, Clubs, Community events, weddings, Celebrations, Corporate and private functions.
The 'mothers' have a warm presence on stage and the music appeals to a wide range of people, from the young through to all ages. MOI can adjust the repertoire to suit all occasions, from subtle to energising.
Please Note - Instead of the session night which is due to fall on Xmas day we are having a Xmas get together at Margaret and Allan's place on Thursday 18th December from 7pm. Bring a plate (with food on it !!). For more info call (02) 9520 6180.