Geoffrey Graham at Sutherland Acoustic

7.30pm, Thursday 13th August 2009
By Jenny Watson
Posted Friday, June 5, 2009
Sutherland District Trade Union Club -The Tradies
Cnr Manchester Road North & The Kingsway, Gymea
Entry: $15 (pensioners $10) (Kids <12 free!)
Contact: Maeve (02) 9520 5628 or Jenny on (02) 9576 2301 after 6pm.
Sutherland Acoustic (formerly Sutherland Folk Club) is delighted to present:
Geoffrey Graham - It's August so it's fair dinkum Aussie bush entertainment time. Geoffrey's new show is called "3 Bards and Me" and incorporates the greats Patterson, Lawson and CJ and Geoffrey! 4 for the price of one. Geoffrey brings you not just a concert but an entire show with verse, song, comedy and yarns complete with costumes and audience participation. Geoffrey Graham is stepped in the Australian bush having been born on a sheep farm in Armidale and raised in spud country at Robinson, come and share his love of the bush and all things Australian. What about wearing something Australian to add to the atmosphere. Fun for all ages.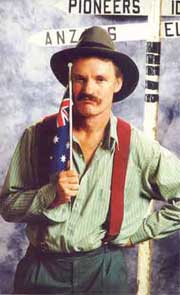 Ralph Graham - Geoffrey's brother presents his own songs.
Put it in your diary now.
Please Note - Don't forget our monthly session nights (4th Thursday) at 7.30pm. The next one is on Thursday 23rd July (4th Thursday). Come along to a friendly jam with warm supportive fellow jammers. All welcome. All encouragement given no pressure. Any style or standard is fine. No charge. Held at same place as above but usually in the Plush room which is downstairs past the coffee shop. For more info call (02) 9520 6180.
The Shire Quire meets on Saturday mornings from 10am-11.30 in school terms at the Tradies club Gymea usually in the Plush room downstairs past coffee shop. We All welcome any standard. Men truly encouraged. Emphasis on social conscious songs. Leader: Mary Jane Field Cost: $10. Enq: Mary-Jane (02) 9399 6278.