Kieran Halpin at Sutherland Folk Club

7.30pm, Thurs 13th March 2008
By Jenny Watson
Posted Wednesday, February 13, 2008
Sutherland District Trade Union Club (The Tradies)
Cnr Manchester Road North & The Kingsway, Gymea
Entry: $10
Contact: Jenny on (02) 9576 2301 after 6pm or Maeve (02) 9520 5628.
Kieran Halpin
Sutherland Folk club is pleased to present Kieran Halpin direct from Ireland in time for St Patricks Day.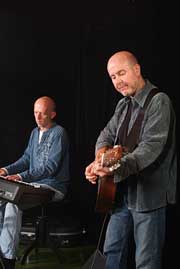 The superlatives keep flying for this remarkably talented artist from Ireland. A must see and highly recommended, Kieran has recorded 11 albums since 1979. But it is live on stage where Kieran really makes his mark. Passionate, powerful, intimate and intense, he is impossble to ignore with a gravely voice and where he lives every song. Possessing a sharp, sardonic wit he is a man who really connects with his audience. "Halpin's material is startling for it's sheer originality, strong enough to mark him down as one of the very finest writers to have emerged in recent years".-Melody Maker. It should be an awesome night.
Crazy Creek - Also on the bill will be Crazy Creek - bluegrass music at it's finest.
Floor spots welcome.
Stop Press!
Extra special concert for March on Thursday 27th. Reg Mombassa and brother Peter "Dog Trumpet" and the Dead Letter Chorus - amazing choir.
Join us for this one off extravaganza. Tickets $15, pensioners $10.
Session Night
There will be no session night in January but there will be one on the 4th Thursday in February (28th). All welcome, friendly and fun jam session any standard any type of entertainment. Please come along and have a go. No pressure! No charge!
Sutherland Folk Club Choir
A new choir has started in the south. Mary Jane Field a well known, experienced and highly enthusiastic choir leader is leading the group. The choir meets weekly from 10-12noon in school term, at Sutherland District Trade Union Club (Tradies for short),Kingsway, Gymea-short walk from Gymea station. Cost $10. Emphasis on social/green issues. Enquiries: Jenny (02) 9576 2301.