Anthony McGloin & Paul Buckberry at Sutherland Folk Club

8pm, Thurs 8th June 2006
By Jenny Watson
Posted Wednesday, May 10, 2006
Sutherland District Trade Union Club (The Tradies)
Cnr Manchester Road North & The Kingsway, Gymea
Entry: $10
Contact: Linda (02) 9527 1563 or Jenny (02) 9576 2301
Anthony McGloin
Anthony has recently released his debut acoustic guitar CD (Nightflight) to critical acclaim. His performances are lyrical, evocative and sometimes humorous, evoking nostalgia and adventure. The (ship in the storm) & bird's flight (Nightflight) are audience favourites. He also does quirky arrangements of past no 1 hits such as ABBA's Money, Money, Money and The Beatles' Get Back. He also plays mandolin. Anthony's music covers folk, jazz, pop, ragtime, classical, traditional, Irish and Bluegrass. Don't miss him, he will be sure to astound and absorb you.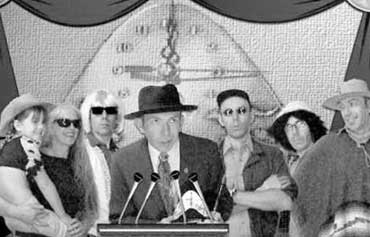 Paul Buckberry
Paul has a unique style which incorporates wonderful finger picking, soulful blues and his own brand of brilliant Aussie compositions. He rounds his act off with some off beat poetry and a great enthusiasm and wit. A genuine all rounder who combined with the wonderful backing of Jim Stubbs will be a real class support act.
Look forward to seeing you all . . .
Jenny
Session Nights
Don't forget the Session Nights take place on the 4th Thursday of every month (except January). All are welcome to come and join us for a friendly jam, singalong, or to say a poem!