Tom Bolton & Brent Parlane at Sutherland Acoustic Night

7.30pm, Thurs 12th June 2008
By Jenny Watson
Posted Wednesday, April 2, 2008
Sutherland District Trade Union Club (The Tradies)
Cnr Manchester Road North & The Kingsway, Gymea
Entry: $10 (Kids <12 free!)
Contact: Maeve (02) 9520 5628 or Jenny on (02) 9576 2301 after 6pm.
Sutherland Acoustic Night (formerly Sutherland Folk Club) is pleased two highly talented singer/songwriters from Melbourne.
Tom Bolton
A gifted, eclectic songwriter whose powerful lyrics are heartfelt and engaging and tinged with a spirituality that is invigorating. His sense of humour and friendliness add charm to his performance.
Also on the bill with be:
Brent Parlane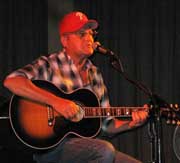 Described as a "national treasure" with a long established career and songs that will make you laugh and cry.
Don't miss these two remarkable singer/songwriters.
Session Night
Don't forget our monthly session nights (4th Thursday). The next one is on Thursday 24th April. All welcome, friendly and fun jam session any standard any type of entertainment. Please come along and have a go. No pressure! No charge!
Sutherland Folk Club Choir
A new choir has started in the south. Mary Jane Field a well known, experienced and highly enthusiastic choir leader is leading the group. The choir meets weekly from 10-12noon in school term, at Sutherland District Trade Union Club (Tradies for short),Kingsway, Gymea-short walk from Gymea station. Cost $10. Emphasis on social/green issues. Enquiries: Jenny (02) 9576 2301.