Alistair Brown at Sutherland Folk Club

7.30pm, Thurs 24th January 2008
By Jenny Watson
Posted Wednesday, December 5, 2007
Sutherland District Trade Union Club (The Tradies)
Cnr Manchester Road North & The Kingsway, Gymea
Entry: $10
Contact: Jenny on (02) 9576 2301 after 6pm or Maeve (02) 9520 5628.
N.B. For January only, the Club will be meeting on the 4th Thursday instead of the usual 2nd Thursday.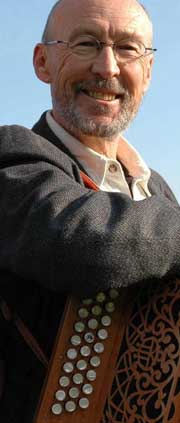 Alistair Brown
Alistair has been singing old and new songs by people who like old songs since he was 15 yrs old in his native Scotland during the great folk scare of the 60's.
From 1972-2002 he lived in Canada, being active in many aspects of the festival scene, folk music and dance.
He now lives in the UK where he calls dance and performs regularly at folk clubs, pubs and festivals. Audiences across North America and UK have responded enthusiastically to his performances covering the field from big ballads, comic ditties, songs of struggles (usually unsuccessfully) against temptations, to outrageously funny stories from a master of the art, all accompanied by anglo concertina, button accordian and harmonica.
"Mastery of storytelling in song" - London Free Press
"Every minute was exceptional" - Macon County Art Council, North Carolina
By the sounds of his bio we are in for an exceptional treat. Don't miss out. Let's start 2008 with a bang and for that to happen we need you our audience.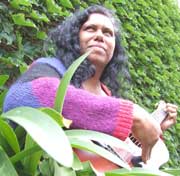 Rhubee Neal
Also on the bill we welcome the return of Rhubee Neal accompanied on guitar by Ken Smith. A beautiful Aboriginal child of the Alice who shares her songs from her heart and the heart of our great land.
Session Night
There will be no session night in January but there will be one on the 4th Thursday in February (28th). All welcome, friendly and fun jam session any standard any type of entertainment. Please come along and have a go. No pressure! No charge!
Sutherland Folk Club Choir
A new choir has started in the south. Mary Jane Field a well known, experienced and highly enthusiastic choir leader is leading the group. The choir meets weekly from 10-12noon in school term, at Sutherland District Trade Union Club (Tradies for short),Kingsway, Gymea-short walk from Gymea station. Cost $10. Emphasis on social/green issues. Enquiries: Jenny (02) 9576 2301.