Margaret Bradford's CD Launch

7.30pm, Thursday 13th December 2007
By Margaret Bradford
Posted Saturday, November 10, 2007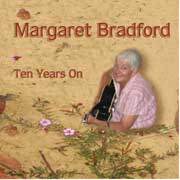 Ten Years On is the title Margaret has given to her latest and long-awaited new CD. Not quite ten years in the making but a CD which contains all those songs you've been asking for over the ten years since Margaret made her last CD, Bindi-eye Bop for kids.

Margaret's sixth recording, Ten Years On is a collection of songs by talented song-writers . . . Bernard Carney, Enda Kenny, John Warner, Bruce Watson, Denis Kevans and many others . . . 14 tracks in all.
Artists who provided backing on Margaret's CD such as Paul Buckberry on guitar, Jim Stubbs on harmonica, Johnny Spillane on whistle and Marcus Holden on Fiddle will be providing accompaniment on the night as well as doing a few songs themselves.
A long time folkie, Margaret hopes this will be a special night to remember.
Please come along and bring all your friends. No one obliged to buy!! Though they would make an excellent Xmas present. Just come and enjoy!
Sutherland Folk Club
Sutherland District Trade Union Club
Gymea
Bookings: (02) 9576 2301