Les Barker at Sutherland Folk Club

Thurs 8th April 2010
By Jenny Watson
Posted Thursday, February 11, 2010
Sutherland District Trade Union Club -The Tradies
Cnr Manchester Road North & The Kingsway, Gymea
Entry: $15 (pensioners $10) (Kids <12 free!)
Contact: Maeve (02) 9520 5628 or Jenny on (02) 9576 2301 after 6pm.
Sutherland Acoustic (formerly Sutherland Folk Club) is delighted to present:Les Barker, a very talented comedian/musician and we are very fortunate to have him perform in an intimate mode performance at the Tradies so please keep this night free to come along.
Here are some comments about Les:
Comic Poet, Les Barker blends Edward Lear's nonsense, Stanley Unwin's word play, the surreal inconsequentiality of Reeves and Mortimer and the demotic robustness of Stanley Holloway monologues. - Martin Hoyle, Financial Times

The man's a comic genius - Nick Beale, Folk Roots

He proved a masterful wordsmith, captivating listeners with his quirky verse and playful personality, touching on occasional tables, snails in a fast food restaurant and dachshunds with erections. His gallery of unlikely heroes included "Cosmo" the fairly accurate knife thrower! Arnold the Armadillo and Spot of the Antarctic. Truly a prince of the pun and sultan of the surreal - Jo Laval

Les Barker proves that poetry can indeed be entertaining, dazzling the audience at Artworks with poems from his huge range of published works. His cardigan clad, unassuming manner on stage as he peers shyly at the audience through spectacles, and his soft Manchester accent delivers the brilliant flow or words and ideas, leaving the listener gasping with laughter. - Gulf News, New Zealand

Session Night
- Don't forget our monthly session nights (4th Thursday) at 7.30pm. The next one is on Thursday 22nd April (4th Thursday). Come along to a friendly jam with warm supportive fellow jammers. All welcome. All encouragement given no pressure. Any style or standard is fine. No charge. Held at same place as above but usually in the Plush room which is downstairs past the coffee shop. For more info call (02) 9520 6180.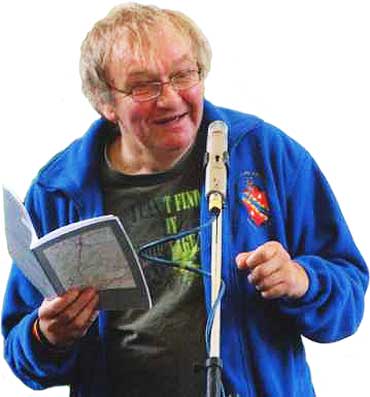 The Shire Quire meets on Saturday mornings from 10am-11.30 in school terms at the Tradies club Gymea usually in the Plush room downstairs past coffee shop. We All welcome any standard. Men truly encouraged. Emphasis on social conscious songs. Leader: Mary Jane Field Cost: $10. Enq: Mary-Jane (02) 9399 6278.