Kate Delaney at Sutherland Folk Club

8pm, Thurs 9th February 2006
By Margaret Bradford
Posted Wednesday, February 1, 2006
Sutherland District Trade Union Club (The Tradies)
Cnr Manchester Road North & The Kingsway, Gymea
Entry: $10
Contact: Margaret Bradford (02) 9520 6180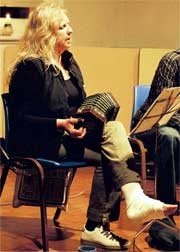 Long time Popular performer at major festivals around Australia for many years now, Kate Delaney is making a very welcome comeback to the folk scene after the sad loss of her partner and fine musician Gordon McIntyre.
Kate's voice is in the category of famous women singers like Buffy Saint Maree and Joan Baez. As well as singing a wide range of contemporary songs, Kate's strong, sensual voice breathes life into many of the old Celtic favourites. She has several albums to her credit, some with Gordon as well as her new CD which will be available at the concert. Kate has performed with various groups over the years and has supported overseas artists.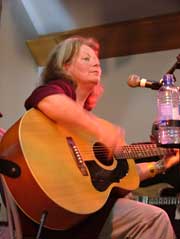 Supporting Kate will be Marni Sheehan whose musical background spans folk and country music, rock, R & B, reggae, soul, blues and salsa over years of band work. She played with many Melbourne bands including Tinsley Waterhouse,The Escalators, The Gringo Stars, Lola's Lost Weekend and trio Lola's Delight. Some past and recent gigs include Maldon Folk Festival, Melbourne Folk Club, Chewton Folk Festival, Wandong Country Music Festival. Bendigo Folk Club, Coastfest.
Marni returns to the acoustic music scene and works either solo or as part of a trio, performing original material with a country/contemporary flavour, and funky favourites (Grace Jones, Doc Watson, Lucinda Williams) – a guaranteed treat for musical audiences. Marni has released an album of her own material – songs that touch the heart the soul and the funny bone! and is planning a follow up album for 2006.
Look forward to seeing you all . . .
Margaret
For Your Diary
Sunday 12th February 2006, 7.30 pm. House Concert with The Spirals (Ben & Britt). Bookings essential: Margaret (02) 9520 6180
Thursday, 23rd February 2006. Session Night at Sutherland District Trade Union Club, Gymea.
And don't forget the
Session Nights
take place on the 1st & 3rd Tuesdays of every month (except January).