The Shack - September 2010

7.30pm, Saturday 4th September 2010
By Kathleen Swadling
Posted Sunday, July 25, 2010
The Tramshed
1395a Pittwater Road
Narrabeen
(In between the Ambulance Station and Car Park of Narrabeen Shopping Centre)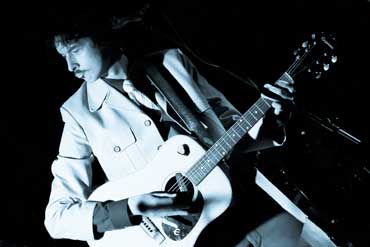 Guest artists this month include:
Luke Escombe - After numerous musical adventures, taking him to different parts of the world, Sydney artist Luke Escombe has just recently his first solo album: "Golden Ages". Recorded in a converted dairy shed in the hills of Byron Bay with a band of local jazz cats, the songs that emerged were warm, humorous meditations on love, life, time travel and happiness. Some might also recognise Luke as the lead singer in the amazingly original band, The Locals. Luke's songs are political, without being partisan; personal, without being maudlin; funny, but never lightweight. They open up like puzzle boxes, revealing more with each listen. Reviews: Escombe has a baritone voice worthy of a love-song dedication hour. Thankfully, he's also got wit in spades and knows how to spin a good story. [Brett Winterford, Sydney Morning Herald]
Luke blew me away man. He's like a cross between Jimi Hendrix and Leonard Cohen. In the same body. [Jack Jones - Southern Sons]
Swoon - Swoon make music that takes your heart, dances with it then puts it back beating stronger than ever. A dynamic Contemporary Rockin' Folk duo who write and perform a range of material from danceable high energy Rockin' Folk, to tender ballads, humorous dittys and their brand of blues based acoustic rock. Josh plays an acoustic guitar with some effects and loops, sings backup vocals and plays the stomp box and foot tambourine. He provides the driving rhythms, wailing solos and catchy guitar accompaniment that Angela Smith (lead vocals and percussion) lays over her strong beautiful voice and master shaker playing. Influenced by their own Kindred, Love, Led Zeppelin and Jigzag, Swoon's music is joyous, unpretentious and refreshing.
Spasm Band - The Spasm Band plays lively jug band / blues / roots music with strong vocals and a variety of instruments that include double bass, harmonica, guitar and dobro. All the members have played in various bands over the years including 'The Stovepipe Spasm Band, East Neasden Spasm Band, Southern Comfort, Greg Quill's Country Radio, Midlife Crisis and The Wheeze and Suck Band'. The overall sound of this group is get down & enjoy good time & fun music.
Coffee and tea is available but BYO refreshments and nibblies.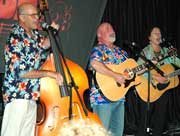 The Shack is held on the first Saturday of every month. There's a cover charge of $15 (or $10 for members, students and pensioners) to cover costs. The Shack is a non profit organisation – all proceeds go toward the promotion and presentation of original, contemporary and traditional 21st century folk music.