The Shack - September '12

7.30pm, Saturday 1st September 2012
By Roxana Jarolimek
Posted Tuesday, May 1, 2012
The Tramshed
1395a Pittwater Road
Narrabeen
(In between the Ambulance Station and Car Park of Narrabeen Shopping Centre)
The Shack presents a remarkable line up of live acoustic music, with a variety of artists on the first Saturday of each month. It is pleasantly laid out cabaret style in a candle lit atmosphere. The music is gently amplified with three main artists each month and one or two pre-booked floor spots. Complimentary tea and coffee is available and feel free to bring your own drinks and nibbles.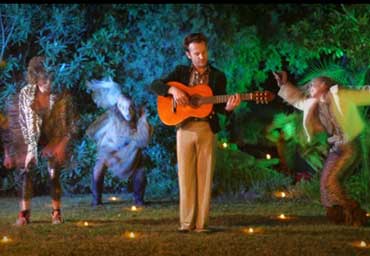 Guest artists this month include:
Aaron Lyon & The Wild Things - Aaron is a soulful balladeer whose craft has been forged by the blues of life, love and loss- at no expense to his roguish charm! Armed with a guitar and an unusually athletic voice, he evokes handsome imagery through his melodic storytelling. Accompanied by three spirited backing vocalists, the Wild Things provide harmony, percussion and Dionysian revelry for Aaron's music. The group have thus far enjoyed success at the Kangaroo Valley Folk Festival, various Sydney music venues and the Northern Beaches Music Festival.
Michael-John Azzopardi - Guitarist Australia magazine once described him as an "Esoteric genius with a penchant for intricate acoustic masterpieces". Stylistically, Michael-John's music draws from a wide spectrum of influences including, Celtic, European and Eastern folk, blues, jazz, rock and alternative. He is a regular performer on the Sydney music scene as well performing at various festivals and folk clubs in New South Wales and the ACT. The Curious Tide is Michael's latest solo album representing a further maturing and deepening of his art.
Folklore - Brings together four fine musicians: Cliona Molins and Fiona McVicar both from Jiggery; Anthony Woolcott from Triantan, as well as Rosie McDonald from Mothers of Intention and RAPT. Together they explore the songs and music of the folk tradition. The line-up includes exquisite instrumentation with a para celtic harp, fiddle, viola, bouzouki, guitar, bodhran as well as sweet four part harmonies. Since forming in January 2011 they have supported Andy Irvine and Rens van der Zalm and have many eyes fixed on their evolution.
Coffee and tea is available but BYO refreshments and nibblies.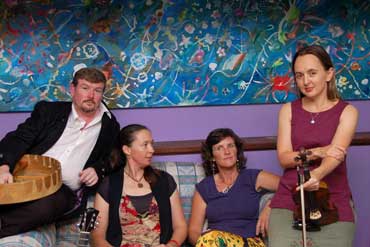 The Shack is held on the first Saturday of every month. There's a cover charge of $20 (or $15 for members, students and pensioners) to cover costs.
The Shack is a non profit organisation – all proceeds go toward the promotion and presentation of original, contemporary and traditional 21st century folk music.