The Shack - October '13

7.30pm, Saturday 5th October 2013
By Roxana Jarolimek
Posted Tuesday, July 16, 2013
The Tramshed
1395a Pittwater Road
Narrabeen
(In between the Ambulance Station and Car Park of Narrabeen Shopping Centre)
The Shack presents a remarkable line up of live acoustic music, with a variety of artists on the first Saturday of each month. It is pleasantly laid out cabaret style in a candle lit atmosphere. The music is gently amplified with three main artists each month and one or two pre-booked floor spots. Complimentary tea and coffee is available and feel free to bring your own drinks and nibbles.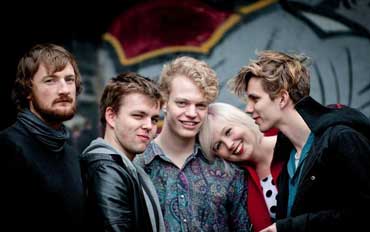 Guest artists this month include:
Belle and The Bone People - are a young and exciting 5 piece band fusing diverse elements of Jazz, Blues, Dixieland and Funk, Belle and Co. possess a unique, yet eminently danceable sound. With songs ranging from brooding, slow burn soundscapes to foot stomping up tempo hoedowns and funky blues jams. Belle and Co. have musicality and energy to spare. Only a young band, Belle and The Bone People have already earned a respected place in Sydney's music scene, playing popular venues such as Oxford Arts Factory, The Metro Lair, The Standard and hosting their own sold out show at The Vanguard.
Brian Campeau - Celebrated for his powerful voice, unique instrumentation, unusual arrangements and organic, left field production, Brian Campeau is no regular singer songwriter.In 2009 Brian released his album "Mostly Winter Sometimes Spring" to rave reviews ("Genuine Genius" – The Drum Media), and toured it extensively throughout Australia. Brian has worked on many platforms having also had a major part in the music of the Underbelly season, Razor (Nine). He's worked as a composer on television commercials, independent films, and radio broadcasts, as well as having worked closely with thelikes of Angus and Julia Stone, Bluejuice, and Tommy Trash. Recent work includes the initial Australian release of Beck's album Song Reader, for which Brian has arranged most of the music, working with guests such as Thomas Rawle (Papa vs. Pretty), Josh Pyke, and Elana Stone.
Ian 'The Pump' Macintosh - is best known as melodeon player and songwriter with the popular Wheeze & Suck Band. He is also an exhibiting fine artist, an event designer and a teacher of traditional English dance.Ian's musical life has taken him from his manifestation as a solo folkie performing onstage with Ewan McColl and Peggy Seeger at the latter's folk club in London in the early 70's, via psychedelic electronics acts 'Cuma Tish Odem' (UK)& 'Seti' (Australia), 35 years teaching the dark arts of English ritual dance, to his current role with the Wheezers. A regular solo performer in Australia and the UK, Ian has also won the Australian Songwriters award, and has been a finalist in two MusicOz song writing competitions. Currently, Ian's solo performances present a blend of his original songs and tunes, alongside original readings of traditional material, delivered with a blend of electronica and acoustic sounds. Ian has released six albums with the Wheeze & Suck Band, and has a solo album available at gigs. Check out the Pump on the Wheeze and Suck web site, or listen to the Pump on SoundCloud.
Coffee and tea is available but BYO refreshments and nibblies.
The Shack is held on the first Saturday of every month. There's a cover charge of $20 (or $15 for members, students and pensioners) to cover costs.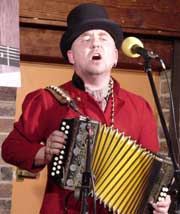 The Shack is a non profit organisation – all proceeds go toward the promotion and presentation of original, contemporary and traditional 21st century folk music.