The Shack - October 2006

7.30pm, Saturday 7th October 2006
By Kathleen Swadling
Posted Sunday, October 1, 2006
The Tramshed
1395a Pittwater Road
Narrabeen
(In between the Ambulance Station and Car Park of Narrabeen Shopping Centre)
Guest artists this month include:
Fellowship of the Strings - A truly unique group of five talented musicians whose powerful, expressive voices, combined with the inclusion of a rare combination of Celtic harps, hammered dulcimer and percussion, form a mesmerising and captivating sound. Around 150 strings join forces to weave enchanting accompanies, rhythmic backing, and Celtic instrument solos. The Fellowship of the Strings takes a creative approach to their presentation of both contemporary and traditional songs and tunes. Be prepared for a refreshing and unique musical experience.
Bec Schofield – a young local singer/songwriter whose rich vocals come right from the heart with songs that reveal a deep love for Mother Earth. (see below for picture of Bec at this year's 'National')
Peter Hardwicke - a brilliant flamenco guitarist who plays with real soul and who also plays professionally for flamenco dance shows and with the flamenco dance studio.
Coffee and tea is available but BYO refreshments and nibblies.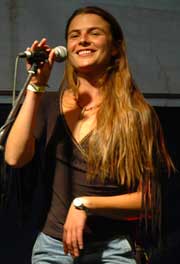 The Shack is held on the first Saturday of every month. There's a cover charge of $15 (or $10 for members, students and pensioners) to cover costs. The Shack is a non profit organisation – all proceeds go toward the promotion and presentation of original, contemporary and traditional 21st century folk music.